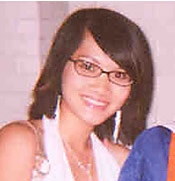 Springfield, IL, June 20, 2006 --(
PR.com
)-- A Statewide Amber Alert has been issued by the Memphis Police Department for a 16 year-old Asian female, Thuydung Cao.
Thuydung was taken at gunpoint by Binh Lam Ho. They were last seen in a gold late 90's model 2 door Honda Accord with Mississippi partial tag SN. Thuydung is 5'0" tall and weighs 95lbs.
She has dark hair and brown eyes. She was last seen wearing a white t-shirt and shorts. The suspect is a 23 year-old Asian male. He weighs 100lbs and has black hair and black eyes and a goatee and was wearing a royal blue t-shirt, blue jeans and black dress shoes.
Binh Lam Ho is considered armed and dangerous please contact police immediately do not approach.
Please visit www.projectsafekids.org for more details.
###