N2growth Announces Relationship with Small Business Review
N2growth's Managing Director and Chief Strategy Officer becomes a contributing editor for Small Business Review.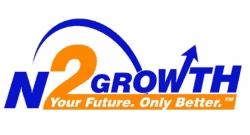 Portland, OR, June 29, 2006 --(
PR.com
)-- N2growth ("N2"), a leading venture growth consultancy announced today that it has become a content partner for Small Business Review a leading small business website and digital newsletter published by Prism Business Media. Additionally, Mike Myatt, Managing Director and Chief Strategy Officer at N2growth has become a contributing editor for the publication and will provide his insights on business in featured articles.
"I'm excited about the opportunity to provide content to the readers of Small Business Review as it is such a quality publication backed by a quality publisher… The thing that makes Small Business Review different than most other business publications is that it's audience is comprised of owners and senior executives of businesses that are going concerns as opposed to an audience of readers trying to figure out how to start a business," said Mike Myatt N2growth's Managing Director and Chief Strategy Officer.
Mr. Myatt is a highly regarded business expert who counsels C-suite executives and entrepreneurs. He will contribute articles containing in depth advice and opinions on the following mission critical topics for business owners and executives:
1. Branding & Corporate Identity;
2. Capital Formation;
3. Mediums & Markets;
4. Leadership Development;
5. Operations & Strategy, and;
6. Talent Management.
To learn more about N2growth please visit www.N2growth.com or call 1-800-944-GoN2 (4662)
###
About N2growth
N2growth is a leading venture growth consultancy providing a unique array of professional services to high growth companies on a venture based business model. The rare combination of branding and corporate identity services, capital formation assistance, market research and business intelligence, sales and product engineering, leadership development and talent management, as well as marketing, advertising and public relations services make N2growth the industry leader in strategic growth consulting. More information about the company can be found at www.N2growth.com.
About Prism Business Media Inc.
Prism Business Media Inc. is a leader in business-to-business communication and information, connecting qualified buyers and sellers in 20 industry sectors. Prism's growing portfolio of market-leading brands spans 70 magazines, 150 e-newsletters, 17 industry trade shows and 500 rich data products. Each month, more than 3.3 million unique visitors utilize Prism Web sites and services. Prism Business Media is owned by U.S. Equity Partners II, an investment fund sponsored by Wasserstein & Co., LP, and by co-investors Highfields Capital Management and Lexington Partners. For additional information on the company and its businesses, visit www.prismb2b.com.
Contact
N2growth
Mike Myatt
800-944-4662
www.N2growth.com

Contact