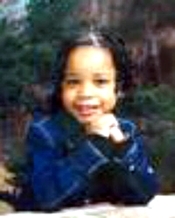 Springfield, IL, July 04, 2006 --(
PR.com
)-- The Illinois State Police and The Chicago Police Department have issued an Amber Alert for a child who was abducted from the West Side.
Antranette Beck is a 5-year-old African-American girl who was taken from 2301 W. Warren Blvd. Antranette has French braids and brown eyes, and was last wearing a pink shirt and gray shorts. She was last seen at 8 P.M. Monday, July 3rd.
Police say Antranette was taken by her father, Anthony Beck. He was last seen driving a blue 1993 Chevrolet Caprice four-door with no license plates. He is wanted for child abduction and violation of an order of protection.
Please visit www.projectsafekids.org for more details.
###