"Cry Wolf" Now Part of Toledo Libraries
The main branch of the Toledo Lucas County Public Library as well as three other branches will be carrying both the first book ("Cry Wolf") and second book ("Ghost of Sijan") on their shelves. The announcement came late, last month.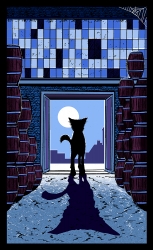 Toledo, OH, July 12, 2006 --(
PR.com
)-- According to the book's author, Doug Crill, book one is also available at several other famous libraries around the country and in the UK. One such library is the award winning Lakewood Library in Lakewood, Ohio.
"It is a special feeling when something that you've created is being offered in your own home town," says Crill. He and the book's illustrator, Daniel J. Frey, are native Ohioans. In 2004, the two men formed Dark Dance Productions dedicated to the creation of quality-illustrated material for publication. Frey has since moved his part of the operations to the West Coast in order to negotiate movie contracts for the "Cry Wolf" series. Crill will remain in Toledo and continue writing other graphic novels and screenplays for Dark Dance Productions.
"Cry Wolf" is also being used as a teaching tool at the University of New Mexico as part of an English class studying lycanthropy through the ages. In 2005, the book was selected as one of the best new graphic novels of the year according to the prestigious Comic Fanatic.
The premise for "Cry Wolf" centers on the research of the well-known investigator, Joseph Campbell, and his studies of cultural myths and legends of the world.
"Cry Wolf" is a publication of Smash Comics and Open Book Press. For more information about the series or any of the other fine books published by Open Book Press, please contact Mike Gagnon, Editor in Chief of Smash Comics and Open Book Press at. www.openbookpress.com, or Christian Bonneray at bonneray3@sbcglobal.net.
Mr. Gagnon can also be reached at mgagnon@bmts.com.
###
Contact
Dark Dance Productions, LLC
Christian Bonneray
419-244-8828
www.crywolfgraphicnovel.com
Doug Crill - 2220 Robinwood Avenue - Toledo, OH 43620

Contact