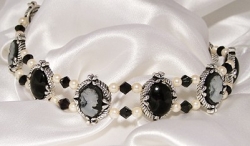 Gillett, PA, July 14, 2006 --(
PR.com
)-- Research shows that pets are a vital importance to our community and enhance healthier lives. Giving unconditional love and companionship, our pets deserve to be treated like Kings and Queens. According to the website, www.designeddogcollar.com, President, Deborah Serfas has found that pet owners are dressing-up their pets with fancy collars, jewels, necklaces and clothing for the elite and elegant look.
Quotation from a Pet Showmanship Owner: "Adorning your dog or cat with jeweled collars and necklaces are highly fashionable immensely searched for. Elegant pet products are a vital importance to this day's society. The more unique the design, the better."
Asking a nearby Veterniarian what he thought and this was his reply: "Owners are very proud of their pets and they are a vital importance in our lives. Our customers are always asking for pet products such as collars, jewelry necklaces and clothing to adorn their pets. They want their pets to look extra-special and show them off."
If you would like more information about the collars, please visit their site at www.designeddogcollar.com or call Deborah at 1-570-596-2826.
###