Major Market Portland Firm Takes on New Video Podcasting Approach
Podcast Media Services (a Division of America Web Works, LLC.) has recently added a video podcast version of their highly successful PodCast Radio Show featuring, America Web Works' Founder, Dr. Tony Marino.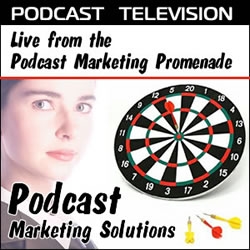 Portland, OR, July 16, 2006 --(
PR.com
)-- After a sincere demand from their professional and novice consulting clients about the intricacies and potential of effectively streaming and delivering time-shifted, on-demand video, America Web Works debuted its' first Podcast TV Show in late last month. The company now has solid plans to expand Podcast Media Services with the inclusion of an upcoming highly targetted, online listener and viewer centric podcast radio and television network along with their evolving Instant Podcaster, Instant Podcast Interface.
At present, both America Web Works and its' subsidiary, Podcast Media Services are completing production of best selling author and Founder of the Wright Institute, Judith Wright's, podcast radio show. (Judith was featured on ABC's, 20/20, last Friday evening. Her 20/20 segment can be viewed as produced for streaming by America Web Works at: http://www.JudithWrightLIVE.com/2020_video.htm.)
"We had already been streaming both audio and video long before podcasting became the buzz, so we felt it high-time to take the PodCast Radio Show into the visual realm", said Podcast Radio and Television Show host, Tony Marino.
For more information on Podcast Media Services' Audio and Video Podcasting (streaming media) solutions, visit http://www.PodcastMediaServices.com
About Podcast Media Services
Podcast Media Services delivers today's leading-edge podcast marketing solutions and technologies to over 80 countries servicing online marketers, educators, corporations, network marketing companies, public speakers and celebrities.
- America Web Works, LLC. -
© 2006 America Web Works, LLC. All Rights Reserved.
###
Contact
America Web Works
Norm Daniels
866-824-9684
www.podcastmediaservices.com

Contact