Certified Assets Bringing "Celebration Mickey" to Baltimore
Wilmington, DE, March 20, 2009 --(
PR.com
)-- Certified Assets Management, one of the nations leading rare coin and bullion dealers announced today that "Celebration Mickey" is going on tour and will debut at the Baltimore Coin & Currency Convention on March 26th - 28th 2009. being held at the Baltimore Convention Center.
"Celebration Mickey" is the largest solid gold sculpture ever created in the United States, and the most valuable "Disney" collectible in the world!
Made from 24-karat gold, this one-of-a-kind Mickey Mouse sculpture was created to observe Walt Disney's 100th birthday in 2001. Designed by Disney artist Marc Delle, "Celebration Mickey" classically depicts Disney's hallmark character dressed in his traditional button shorts, gloves, shirt, and shoes.
The two-foot tall, one-of-a-kind sculpture is molded out of 1,500 troy ounces (more than 100 pounds) of 24-karat pure gold. It is the only sculpture of its kind certified and issued to be an authentic by Disneyland Resort and is even signed with the "Disney Corporate Trademark" on the side of Mickey's right foot.
Bob Higgins, CEO of Certified Assets said "We are thrilled to be able to offer this magnificent collectible for sale, and to be able to exhibit it at the Baltimore Show. It is remarkable not only for its size, but also for being the most valuable Disney Collectible in the world."
The sculpture is presently being offered for sale at $2.5 Million.
But Baltimore is not the only stop on "Mickey's tour. Higgins plans on being the sculpture to other coin shows across the country in the coming months including:
* The Santa Clara Coin Expo in Santa, Clara, Ca on April 2-5
* The Central States Numismatic Show in Cincinnati, OH on April 28-May 3
* The Whitman Coin & Collectibles Expo in Atlanta, GA on May 14-16
* The Long Beach Coin Expo in Long Beach, CA May 28-30
When not on "tour," Celebration Mickey will have a new home at the First State Depository in Wilmington, Delaware.
First State Depository Company is a professionally managed, private level 3, high security facility which stores precious metals and rare coins for investment banks, brokerage firms, refining companies, commodity trading houses, precious metals retailers, coin dealers and individual investors. (www.fsdepository.com)
About Certified Assets Management Inc.
Certified Assets Management, Inc (CAMI) maintains one of the Largest Inventories of Classic Coin Rarities in the industry, and as one of the foremost certified rare coin retailers and wholesalers in the world. They are know for offering the "Best of the Best", often unique items. They routinely handle some of the greatest rarities in all of numismatics and supply many of the leading dealers and market-makers with world-class rarities on a daily basis. Utilizing decades of experience in the rare coin market, the managers of Certified Assets Management are uniquely positioned to offer selected inventory, from single rarities and "finest-known" to bulk-lots suitable for television shopping networks, CAMI has become the warehouse for the industry.
###
Contact
Certified Assets
Bob Higgins
302-765-3352
www.certifiedassets.com

Contact
Multimedia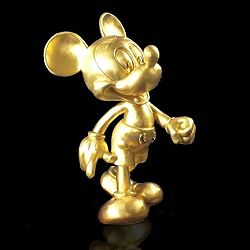 "Celebration Mickey" is the largest solid gold sculpture ever created in the United States, and the most valuable "Disney" collectible in the world!