Solea Group Presents Virtouso Guitarist Stevan Pasero's Newest CD, "Jambossa"
Stevan Pasero is back. "Jambossa" is the much anticipated, newest release by guitarist Stevan Pasero. Noted for his flamboyant finger-stylings, arrangements & compositions, Stevan has sold over 10 million CDs worldwide and is recognized as "One of the greatest guitarists of all time." - KKHI, San Francisco, CA. The new album showcases this gifted artist's breathtaking technique and fluid musical skills that he has perfected over the past 25 years.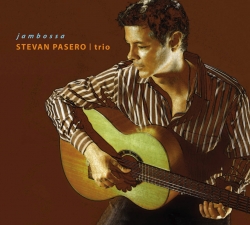 San Francisco, CA, April 20, 2009 --(
PR.com
)-- Jambossa is performed by the Stevan Pasero Trio and is a fusion of jazz, bossa nova, rhumba, flamenco, tango and classical styles. Stevan's new CD/MP3s are immediately available at: amazon.com, cdbaby.com, stevanpasero.com, itunes, rhapsody and more.
The sound for this recording came from Stevan jamming and gigging over the years with some his closest friends: Christopher Bock, Richard Patterson, John Anttila, Enrique Ruiz de Luzuriaga, Freddy Clarke and Ray Bock, and after years of recording and performing Latin, jazz, Spanish, rock and classical music. The track selection highlights memorable jazz and pop standards yet with a unique twist due to his adroit finger style. According to the artist: "I have been looking forward to arranging songs in a way that combines several of my favorite music genres (jazz, Brazilian, rhumba, pop) while utilizing specific finger style techniques (classical, flamenco, tango). It is called mashing, or at least that is what I call it. It was really fun in the studio to mash right hand techniques that I have studied through the years (rasqueado, apoyando, libre, arpeggio)." - Stevan Pasero
On this recording, Mr. Pasero chose to arrange songs from a variety of genres: bossa nova (Black Orpheus, How Insensitive, Dindi); jazz standards (Georgia, Unforgettable, What a Wonderful World); tango/rhumba (Besame Mucho, Boulevard of Broken Dreams); classical (Carmen, Gymnopedie); and pop (Moondance, Stairway to Heaven). Drummer John Anttila has teamed with Stevan over the years and provides a spicy, rhythmic drum style ranging from lush brush work to cadenced, poly-rhythmic rhumba beats. There are 3 bass players on this CD, each providing a rich baritone backdrop for the arrangements. Paul Eastburns upright work is featured on six songs and his solo intro on Moondance and Black Orpheus really stand out; Sascha Jacobsens bow work provides an exotic tango kick to the mix, and Perry Thoorsell contributes swinging walking lines to the set. The trio is joined by guest artist, percussionist Rene Escovedo, who delivers mesmeric grooves weaving effortlessly with Paseros guitar and Anttilas drums. This CD showcases the best of both worlds for guitar lovers and fans of Stevan Pasero: a memorable selection of songs framed by exhilarating guitar performances and unforgettable trio arrangements.
For more information:
Solea Group website: http://www.soleagroup.com
Official Artist Website: http://www.stevanpasero.com
To review Stevan's Electronic Press Kit, go to: http://www.musicsubmit.com/StevanPasero
###
Contact
Solea Group
Ean Carell
650-281-7069
www.soleagroup.com
FAx: 650-726-4038

Contact
Multimedia
Stevan Pasero is known worldwide as one of the most influential and versatile guitarists/composers of the past decade. Guitar aficionados love him, fans around the world are loyal to his music, critics praise his musicianship, while his recordings have sold over millions.