Learn How to De-Stress on National Relaxation Day by Visiting a Nudist Resort
From the moment the alarm clock rings and one drags themself out of bed, modern life is one big bundle of frazzled nerves. It's agonize over what to wear to work. Feed the kids breakfast and rush them off to school. Gulp down coffee and fly out the door, only to sit on the expressway or be packed in like a sardine on a bus or train. It is no wonder that stress levels are at an all time high. People are about to blow their corks. Everyone badly needs a break.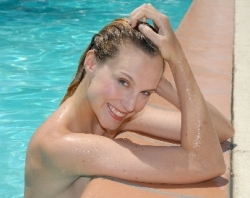 Palm Springs, CA, August 10, 2006 --(
PR.com
)-- This August 15th celebrate National Relaxation Day (called National Slacker Day in England). This holiday was started in the U.K. in 2001. It is a national effort to get people to realize they need to stop and smell the roses. Take a breather from our hectic, helter skelter world. Relax and de-stress. Learn that life is not worth living, if we are slowly killing ourselves everyday.
Going nude is the natural way to relax to the max. Celebrities have some of the most stressful careers around. Yet, many have learned the secret to de-stressing by going nude. Regular people should follow their lead.
Shakira recently told a German teen magazine that she, "would like to live permanently nude. 'When I'm not working, I like to go around nude and without any makeup on,' she added. 'If I could, I'd live nude the whole time, like Eve in the Garden of Eden.'"
Britney Spears said to Rolling Stone Magazine, "Honestly, I walk around my house naked."
And many celebrities love going to nude and topless beaches. Kate Hudson told Allure magazine this August about how she and her mother, Goldie Hawn were topless sunbathing in Sardina.
It is very calming being nude. As soon as the clothes come off, the stress levels just melt away. That is one of the major reasons why Forbes Magazine reported that nude recreation is the fastest growing niche in the travel industry.
One of the more popular nudist resorts in the world is located in Southern California. It is The Terra Cotta Inn Clothing Optional Resort and Spa located in beautiful, sunny Palm Springs, CA.
http://sunnyfun.com
The Terra Cotta Inn is considered the most mainstream nudist or naturist resort in the U.S. As one of the few nude hotels that caters to couples and not families with kids like other nudist places, you can really relax. No noisy kids there to distrurb your peace and tranquility.
On a recent travel show called "Ultimates: World's Most Unusual Hotels for the Ultimate Experience," the Terra Cotta Inn was honored as one of the ten ultimate hotels of the world to vacation at. The show reported, "the atmosphere is the ultimate in relaxation." It is "the most laid back and relaxed hotel on our list. These innkeepers work tirelessly to ensure each guests day is truly heavenly."
This August 15th, there are two choices. Rush around and continue to burn out or try to really relax for a day or week. Start by going nude around the house and see just how freeing it can be. Then call a clothing optional resort, and book the best vacation ever. De-stressing just might save your life.
###
Contact
The Terra Cotta Inn Clothing Optional Resort and Spa
Tom Mulhall
1-800-786-6938
http://sunnyfun.com

Contact