Denver Goes Fashion Forward for Furry Friends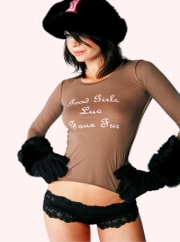 Denver, CO, August 10, 2006 --(
PR.com
)-- Good Girl Brand sportswear and Monarck Nightclub put the fun into fundraising with an evening of trendy fashion to benefit the Dumb Friends League, during Monarck's 2-year anniversary celebration. Models will catwalk down the runway dressed to the nines for canines at the August 12th event, which launches at 9 p.m.
A $10 suggested donation at the door supports the Dumb Friends League, the largest animal welfare organization in the Rocky Mountain region.
• The sensational Good Girl Brand will present classic good girl wear. Guests will get a sneak preview of the hot new "Good Girl en Francais" fall season collection. Guaranteed to make good girls purr and bad boys jump the fence.
• Cache will showcase fabulous accessories for the confident, sexy, social and stylish woman.
• X Rated Vodka provides complimentary "Good Girl" martinis from 8-10pm, to help wet the whistle and loosen the leash.
20 VIP gift bags will be given away, and goodies include:
• Good Girl Brand tank top: The Good Girl Brand is the cat's meow, and was featured at the 2006 EXTRA Awards Lounge to celebrate the Oscars. www.GoodGirlBrand.com
• Shiseido Facial Massage: One of Japan's oldest skin care companies, Shiseido incorporates aspects of French, arabesque, art nouveau, and art deco culture and design into the current Shiseido aesthetic. www.Shiseido.com
• DJ Bedz Mixed tape CD "Every Hoods the Same" featuring Ice Cube: DJ Bedz, a locally and nationally renowned radio DJ, is entering his 4th season as the official team DJ for the NBA's Denver Nuggets. www.DJBedz.com
• Hannah's Handprints Bath and Body Co product coupon and sampler in "I'm just a girl" and "Pink Cocktail" fragrances: Hannah's features handcrafted soaps, lotions, creams, mists and more, and offers the largest fragrance selection on the Web. www.HannahsHandprints.com
• Beautiful handmade beaded ring by Beads of Allure: Elegant European jewelry and beadwork handcrafted by Diana M. Dannelly for the femme fatale. BeadsOfTemptation@Hush.com
• Arbonne International sample and coupon:
Jaunita Seevers, a district manager for Arbonne International offers a ground-breaking skincare line endorsed by the president of the American Model Association. www.Checkout.MyArbonne.com
• Full-size, all natural, handmade Lily Gulch Soap: Lily Gulch makes premium handmade soap from scratch, using only the finest quality all-natural and all-vegetable ingredients. www.LilyGulchSoaps.com
Founded in 1910, the Dumb Friends League is a national leader in providing humane care to lost and abandoned animals, rescuing sick, injured and abused animals, adopting pets to new homes, helping pets stay in homes, and educating pet owners and the public about the needs of companion animals. The organization provides shelter and care for more than 28,000 lost and abandoned animals each year.
The Monarck Nightclub is located at 1414 Market Street in Denver.
For more information and media interviews, please contact:
Kelly Anguilm (a.k.a. Kelly A.)
Good Girl Brand
www.goodgirlbrand.com
Phone: 303.517.9974
The Good Girl Brand is a trendy, fashion forward collection of sportswear, for women of all ages.
###
Contact
Good Girl Brand
Kelly A.
303.517.9974
www.goodgirlbrand.com

Contact