Allegro Dance Company - Not Your Typical Tarantella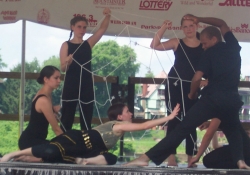 Wheeling, WV, August 11, 2006 --(
PR.com
)-- Allegro Dance Company of Wheeling, WV will travel to Clarksburg WV on Sat August 26 at 2:15 for the annual Pasta Cook-off and for a main stage performance at the upcoming WV Italian Heritage Festival on Sat September 2 at 4pm.
Allegro (meaning fast tempo in Italian) Dance Company is a professional dance company that educates, entertains and inspires audiences about the Italian culture. They have performed throughout the US and Italy and have made guest appearances with the Wheeling Symphony and the WV Orchestra. They have been featured in Danza Italia Magazine and Dance Spirit Magazine. In 2000, Allegro toured Italy with performances in Rome and Montecatini. Recently they have performed for the Dean Martin Festival in Steubenville Ohio, the Upper Ohio Valley Italian Festival as well as International festivals for Point Park University and Wheeling Jesuit University.
This lively group takes the audi ence on a journey using various styles of dance such as traditional, modern, jazz and even ballroom as they examine Italian influences from the distant past to modern day. They bring passion, excitement and breath-taking movement to the stage.
Allegro will premier their new creation of the Italian folk dance the Tarantella called "Ranyatella" which means spider web. This dance involves 6 dancers and a 5ft spider web. Director Anna Harsh states, "this is not your typical tarantella that people are use to seeing. Ranyatella combines lifts, earthy traditional movement with a fast chase of the spider and his prey. I wanted to choreograph something that was a little more visual and challenging to perform with an actual web and I think we achieved it."
Artistic Director, award-winning choreographer and professional dancer, Anna Pishner Harsh is a WV native. She created the company in 1994 with the idea that the art of dance could preserve her Italian heritage by inspiring the next generation of Italian-Americans. Anna has become a pioneer in combining traditional Italian dance with contemporary movement. She is currently working on her Masters Degree at West Virginia University and holds a BA degree in Dance from Slippery Rock University. She instructs dance and Pilates classes at La Danse Technique in St Clairsville, Ohio and recently performed with a modern dance company called Pittsburgh Dance Connection. Allegro performs as well as instructs workshops and lecture demonstrations for schools and organizations. For more information on Allegro's summer tour go to www.allegrodancecompany.net
###
Contact
Allegro Dance Company
Anna Harsh
304-242-2826
www.allegrodancecompany.net
Home Office:
75 Carmel Rd 1E
Wheeling WV 26003

Contact