Relationships are Key to Business Leaders' Success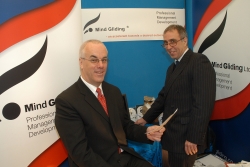 Canterbury, United Kingdom, August 11, 2006 --(
PR.com
)-- Mind Gliding has an authentic approach to professional management development. Mind Gliding focuses on building and improving corporate relationships and communications.
Effective stress- and change-management, workplace and corporate performance, and conflict resolution are all part of an extensive portfolio of staff development programmes.
The Business Leaders Programme
The Business Leaders Programme links personal development to conscious competence as a business leader. Peter Gleeson, director of programmes at Mind Gliding said: "Our programmes focus on people's interaction in their relationships with each other and within the systems, or organisations, in which they operate. People in business at senior level are often aware of their role and what is expected of them, this creates concerns about their ability to adequately fulfill those expectations. Failure to meet these expectations causes stress and anxiety which in turn adversely affects relationships within a business."
Coaching Practices for Managers
Mind Gliding's cofounder, Dr Eddy Kloproge, added: "We realised that in areas of management development there is lack of material that highlights the significance of relationship and communication between people involved in corporate management. Consequently Mind Gliding has created programmes like the Coaching Practice for Managers that look further than schooling, training and learning on how to become a good manager."
Corporate Assertiveness
Every functional business reflects the people it employs. Peter, a Gestalt trained psychologist, together with his partner Dr Eddy Kloprogge, a medical scientist, have developed training programmes for individuals within organisations to improve performance and self-esteem at every level of business.
Peter said: "We are always developing new ideas and writing new programmes. Earlier this year we successfully launched our innovative approach to educating senior level managers in the fundamentals of 'being a good manager' at a full-day seminar at Broome Park, near Canterbury".
The seminar focused on 'emotional intelligence' and 'strategy planning'. Participants included senior managers from Kent companies like Siegrist-Orel, Lynstead's Children Services, Beech Tree Total Care and other business executives from London, Jersey and Geneva. Business Link Kent and Canterbury Christ Church University were also represented.
Eddy explained: "We often are approached by business organisations that have underlying 'people' problems that are not always easy to define. We like to work with the people in organisations and act as an accelerant towards a desired outcome, helping them to achieve their goals". People who are interested in Mind Gliding programmes and philosophies behind them can also subscribe for one of their "Life Skills" courses at Warnborough College in Canterbury.
www.mind-gliding.co.uk
###
Contact
Mind Gliding Ltd
Dr Eddy Kloprogge
+44 (0)1843 296565
www.mind-gliding.co.uk

Contact