New Mobile Rapid Automatic 3 Way Transfer Switch from AIMS Power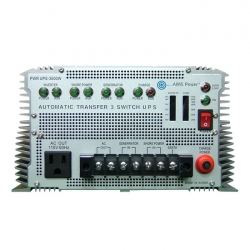 Reno, NV, August 12, 2006 --(
PR.com
)-- AIMS Corporation announced the release of two first-to-the-market power products that promise to simplify the electricity needs of boaters, RVers and commercial fleets wherever they go. The exclusive Power Controller™ is an all-in-one 3-way Automatic Transfer Switch, Battery Charger and Power Inverter and is available in either a 3500 Watt or 6000 Watt model. Additionally, the company has released the 3-Way Transfer Switch, which provides seamless, immediate transfer of electrical power between an AC outlet, a backup generator and battery. This is exclusive to AIMS as most transfer switches on the market only have a two-way switch.
"Both the Power Controller and the 3-Way Transfer Switch can help people quickly and easily power and use their electricity dependent devices while on the road when utility power is not available. The 3-Way Transfer Switch detects if your shore/city electrical supply is interrupted and will automatically transfer power requirements to a generator. If that power source is down, it will then transfer all power needs to a 12 volt battery," said Bruce deJong, president of AIMS.
The Power Controller builds on the functionality of the 3-Way Transfer switch to immediately transfer electrical power between city/shore power, a backup generator and its built-in 12 volt inverter. When utility or generator power is made available, the Power Controller's included 30 Amp 3 stage battery charger will automatically recharge a 12 volt battery resulting in continuous power whenever, wherever it's needed.
"The Power Controller can be used in homes, cabins, boats, RVs and other places where you'd like the convenience of electricity when it is unavailable," explained deJong. "For instance, people traveling in RVs tend to use the vehicle's power while on the road to power their appliances, computers and entertainment devices. The Power Controller makes it easy for families to simply transfer their source of power to a generator while simultaneously recharging the battery on the unit. Should the generator power become unavailable, all of the devices inside the RV will continue to run without interruption by running on the 12 volt battery."
Both products utilize digital software to operate which translates to low power consumption. The Power Controller's 3500 Watt inverter is ideal for powering devices in trucks, midsized RVs, boats and cabins while the 6000 Watt inverter provides enough power for devices in larger RVs, boats and houses as well as pumps.
For more information, you can visit the AIMS website at www.aimscorp.net or by calling 1-775-359-6703.
About AIMS Corporation
Founded in 2001, AIMS Corporation has lead the power adapter industry by providing a total, turn-key solution to resellers, distributors and OEMs. AIMS provides customers with a reliable source of unique power products at a price that is consistently competitive. The complete line of inverters, transfer switches, custom cut cables and proprietary products, represents one of the largest selections in the industry. AIMS power supplies provide reliable, safe solutions for construction purposes, equipment, audio equipment, amplifiers, televisions, computers, medical equipment and much more. Through the AIMS product inventory, boaters and RVers as well as commercial sites and fleets have access to an easy-to-use, consistent power supply that ultimately simplifies their power needs while on the road. AIMS Corporate headquarters are located at: 5475 Reno Corporate Dr. STE 200, Reno Nevada 89511.
###
Contact
AIMS Power Inc.
Bruce de Jong
775-359-6703
www.aimscorp.net

Contact