ReadyNAS NV 2TB Launched for Sub $1600.00 from Leading Infrant Premier Reseller eAegis.com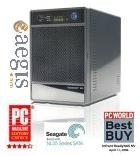 Longwood, FL, August 20, 2006 --(
PR.com
)-- eAegis.com (Aegis, LLC), leading premier reseller of Infrant Technologies ReadyNAS range of products, has extended its value for money promise by offering the first ever sub $1600.00 2.0TB (Two Terabyte) product in the US. The ReadyNAS NV 2TB with 4x500GB Seagate drives will now sell for a mere $1595.00 with the added bonus of FREE SHIPPING. The ReadyNAS NV 2TB was a subject of a recent review in the prestigious PC PRO magazine, a leading UK computer publication, which made the PC PRO A LIST. This is a list that is reserved for products that achieve the full six points, a feat that is not easy to attain, but one that the ReadyNAS NV 2.0TB managed to scoop, with ease.
eAegis.com continues to sell and support the entire Infrant ReadyNAS range of products, first introduced in its portfolio back in March 2005. Since, that time Infrant and eAegis.com has worked closely to ensure the after sales service is smooth and the support plan verified. As an eAegis.com customer you will be assured of top level support and the fastest response time turn around that is possible from Infrant.
The ReadyNAS NV, 2TB consist of 4x500GB Seagate ST3500630AS hard disk drives, that adopts the latest perpendicular recording technology, and is currently the best performance drive in its class, with an unmatched five year warranty provided by Seagate directly. The ReadyNAS NV, 2TB is supplied in the Aegis tradition of being fully configured and burn-tested for 48hrs. The appliance is supplied in either X-RAID or RAID 5 modes, ready to use out of the box.
"The ReadyNAS NV 2TB is a quality product with the best value for money at this time" said Mohamed Mawji, COO, Aegis, LLC. "We continue to deliver on our promise for providing value for money products that ensure protection of our customer's investment."
The ReadyNAS NV has been extensively tested by Infrant for compatibility with a wide variety of digital audio and media devices that support Ethernet connections. It also features backward compatibility with any product from the ReadyNAS family, allowing users to easily upgrade to the NV. Additionally, the NV supports all major operating systems, including Microsoft Windows™, Linux™, Mac OS X™ and UNIX.
Availability and Pricing
The ReadyNAS NV is available now from stock, and is priced at $1595.00, with FREE SHIPPING. The units are offered in either the X-RAID (Expandable) or RAID 5 (Flexible) specified at the time of ordering. All prices are exclusive of sales tax.
About – Aegis, LLC
Aegis LLC and the eaegis.com and eaegis.net sites are specialty online retailers of business and consumer Computer Security, Enterprise and Network Storage, and Wireless Network solutions. We at Aegis LLC are committed to work strategically and diligently towards providing our customers with predictive buying solutions that ensure protection of their critical investments. Further information can be found on our web site by visiting http://www.eaegis.com or by calling + 1 407 323 6002.
###
Contact
Aegis, LLC
John Banks
407-323-6002
http://www/eaegis.com

Contact