Remote Data Backup will be a Key to Surviving Ernesto and other Hurricanes - GeeksForRelief.com will Provide it at No Cost
As storms threaten, online backup provides the ultimate in protection for computer data.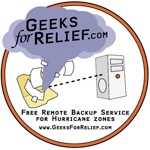 Memphis, TN, August 29, 2006 --(
PR.com
)-- In advance of Hurricane Ernesto's arrival on U.S. shores, GeeksForRelief.com has a message for computers everywhere - "Back it up or lose it."
GeeksForRelief.com is an all-volunteer organization of remote computer data backup service providers located throughout the United States. The organization was formed in response to last year's catastrophic storms along the U.S. Gulf Coast with the intent of spreading the word about the importance of data backup - and offering it at no cost to those in danger zones.
"Many businesses and individuals are still not aware of exactly how devastating the loss of computer data can be." commented Tommy Gardner of Remote Backup Systems, Inc., one of the GeeksForRelief.com project sponsors. "After Katrina, many of those affected by the storm learned that infrastructure damage can be overcome relatively easily - but computer data loss is frequently permanent and irreversible."
As evidence, Gardner points to the thousands of businesses that have permanently closed due to the loss of their client database and contact, inventory and supplier data. According to the U.S. Small Business Administration, as many as 40 percent of businesses hit by a serious natural disaster do not survive. These facts underscore the need for proper data backup practices, which include having the computer data process be completely automated, encrypted, and stored offsite.
Ernesto is projected to regain some of its lost strength as it re-enters deeper and warmer waters in the Florida Straits north of Cuba, and is expected to make landfall along the coast of Florida as early as midday Tuesday. Current projections hold the possibility of a strike with winds approaching 90 miles per hour, near the densely populated Miami and Fort Lauderdale areas - home to over 5 million people.
Those seeking free online data backup services are encouraged to visit www.geeksforrelief.com, where the appropriate software may be downloaded at no cost to the end user.
About GeeksForRelief.com:
GeeksForRelief.com is a consortium of professional remote data backup providers committed to providing free online backup services for businesses and households located in coastal communities throughout the Southeastern and Atlantic United States.
Online backup service companies taking part in the GeeksForRelief.com project normally charge a recurring monthly fee for their data backup services. As part of this program, the service providers will provide from 2 Gigabytes to 10 Gigabytes of free online backup space to those in the affected areas for 120 days after the individual or organization activates the service.
Contact: Tommy Gardner
GeeksForRelief.com Program Coordinator
Remote Backup Systems, Inc.
901-850-9920
www.geeksforrelief.com
tommy@geeksforrelief.com
###
Contact
Remote Backup Systems, Inc.
Tommy Gardner
901-850-9920
http://remote-backup.com

Contact