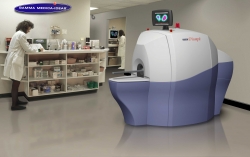 Northridge, CA, August 31, 2006 --(
PR.com
)-- Gamma Medica-Ideas (GM-I) will unveil its new FLEX Triumph™ tri-modality pre-clinical imaging system at the Society of Molecular Imaging's annual meeting in Hawaii this week.
FLEX Triumph is GM-I's fifth generation pre-clinical imaging system. It can be configured with PET, SPECT, or CT subsystems, or any combination of those three. For SPECT imaging, FLEX Triumph can be configured with up to four of the company's recently announced CZT-based solid-state gamma cameras, offering the best performance (in sensitivity, spatial resolution, and energy resolution) of all pre-clinical SPECT systems on the market today.
"FLEX Triumph's unparalleled imaging capabilities and cutting-edge design make it our boldest and most powerful offering yet," said Dr. Bradley E. Patt, GM-I's president and chief executive officer. "This system sets a new standard for pre-clinical imaging."
The Society of Molecular Imaging (SMI) meeting will be held at the Hilton Waikoloa Village on the Big Island of Hawaii. More information on the SMI meeting can be found at http://www.molecularimaging.org/2006meeting/home06.php.
About Gamma Medica-Ideas
Gamma Medica-Ideas (GM-I) designs, develops and manufactures next-generation imaging systems used in diagnostic medicine, medical research, and for security and safety applications. GM-I's expertise in unique next-generation, integrated front-end electronics allows it to produce some of the world's only truly digital imaging equipment. The company develops and produces all of its key electrical components and systems, such as:
• Application Specific Integrated Circuits (ASICs)
• Detector modules
• Camera heads built with unique solid-state technology
• Systems and software featuring advanced multi-modality image fusion, registration and processing capabilities.
GM-I is a world leader in developing imaging systems that contain two or more imaging modalities. Combining different imaging modalities in single instruments creates imaging tools with powerful diagnostic and research capabilities. GM-I's products include the LumaGEM® functional breast imaging system for early diagnosis of breast cancer and the FLEX and FLEX Triumph Pre-clinical Imaging Platforms for medical research and drug development. FLEX systems are used by medical researchers and drug companies that use in vivo imaging techniques and molecular markers to dramatically speed up studies of disease progression and therapy. GM-I's FLEX and FLEX Triumph systems include:
• X-SPECT® - the market leader in the pre-clinical SPECT category, and the only commercially available solid-state, eV-CZT™-based SPECT pre-clinical imaging system.
• X-PET™ - a pre-clinical PET system with a large axial field of view and the highest sensitivity among small animal PET systems.
• X-O™ - a high-speed volume micro-CT instrument
Any two of the above systems can be combined in the FLEX Triumph imaging gantry, as can all three.
GM-I's imaging systems are used by some of the world's leading medical institutions, including Harvard University, Yale University, the Mayo Clinic, the M.D. Anderson Cancer Center at the University of Texas, Switzerland's Center for Radiopharmaceutical Science, and many others.
More information is available at www.gm-ideas.com.
###