New Designs Launched by ShirtFight.com Aim to Please… or is that Provoke?
ShirtFight is an online tee shirt company that opened its virtual doors this summer, providing silk screened designs on high quality American Apparel Tees. With designs ranging from witty to raunchy, the new tees available at www.ShirtFight.com are bound to make anyone wearing them the topic of conversation.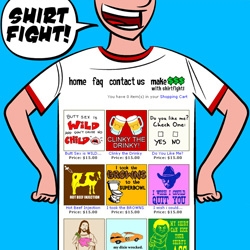 Chicago, IL, September 05, 2006 --(
PR.com
)-- With the advent and growing popularity of print on demand (POD) publishing, anyone can open an online storefront selling tee shirts, and sometimes it seems that nearly everyone has. But the glorified "iron-ons" sold through most of these online shirt shops are often lacking in both quality and originality, with shop owners re-using the same tired old taglines. Now
http://www.shirtfight.com/
is bringing the fight to the online tee shirt market, providing a series of twelve new designs, from comical to just plain crude. Tees sold through ShirtFight.com not only undergo a more professional silk screen printing process, but all designs are printed on high quality American Apparel tees.
Growing weary of the repetitive tee shirt designs available, the team at www.ShirtFight.com creates every one of their designs themselves, making them unique to their site. This means customers can be the conversation starter when they wear their
funny t-shirts
for a casual night out on the town, instead of being just one in the crowd.
ShirtFight.com launched this summer as the manifestation of drunken nights and brainstorming sessions among friends. One clever, and previously undone, tee shirt tagline led to around 100. Rather than produce every idea, the ShirtFight team made the decision to narrow it down to the twelve best designs, including the one that may as well be the slogan for the company itself as "My shirt can kick your shirt's ass." Plans include growing the design collection, eventually reaching a target of one new design each week, as well as opening things up to customer suggestions and designs.
All orders are processed and fulfilled directly through www.ShirtFight.com, rather than third party printing companies like so many competitors. ShirtFight.com also offers a quick turnaround, with orders usually processed same day, shipped next day, and averaging three to four days for delivery.
###
Contact
Shirt Fight
Jud Chapman, El Presidente of ShirtFight.com
(404) 547-6084
www.shirtfight.com

Contact