Bamboo Leading the Way in Textile Innovations
Jonäno™ antimicrobial ecoKashmere™ - sustainability, styling, security.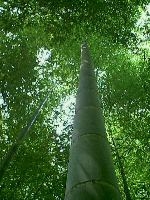 Pittsburgh, PA, September 12, 2006 --(
PR.com
)-- Value added performance fabrics are the latest trend in textiles. Jonäno™, a division of Sami Designs, LLC, is concentrating on one particular area of study in high tech fabrics: a new generation of antimicrobial and antibacterial textiles. This technology incorporates built in abilities to fight harmful microbes that cause odor and can lead to infection. Jonäno™ offers a wide scope of all natural, hypoallergenic, next to the body wear made from antibacterial bamboo fibers.
Alistair Williamson, nylon filament sales manager with Nurel S.A. of Barcelona, Spain, a leading producer of filament yarns for performance apparel fabric, says, "There is a growing expectation from consumers that garments must do more than just clothe them. Antimicrobial fabrics contribute to a consumer feeling fresh and clean, and they do wonders for one's comfort and self confidence."
Bamboo: Naturally Antimicrobial
The natural antibacterial properties of bamboo fabric come from an inherent quality of bamboo commonly called "bamboo kun." Bamboo does not require the use of pesticides due to this natural antifungal antibacterial agent. It is rarely attacked by pests or infected by pathogen. The same natural substance that protects bamboo growing in the field, functions in the spun bamboo fibers.
Bamboo fibers are processed using a patented manufacturing technology of hydro-alkalization. Processed without the addition of caustic additives according to ISO9000 and ISO14000 principals, bamboo hypoallergenic fibers are the ideal alternative for individuals with sensitive skin.
A quantitative antibacterial capability test was performed by the China Industrial Testing Center (CTITC) from July 7th 2003 thru July 11, 2003. One hundred percent Bamboo Fabric was tested over a 24-hour incubation period with bacterial strain type Staphylococcus aureous. After the 24-hour period the numbers of live bacteria were counted in each sample. The results showed that 100% bamboo fabric exhibits 99.8% antibacterial kill rate.
Studies by the Japan Textile Inspection Association (JTIA) revealed long-term antibacterial efficacy of bamboo fabric. The quantitative test method JISL 1902 was performed using 100% bamboo fabric that had been washed industrially 50 times. Incubation over a 24-hour period with bacterial strain type MRSA Staphylococcus IID 1677 was followed by a count of live bacteria on each sample. Results showed that bamboo fabric showed antibacterial efficacy (greater than) 70% after 50 industrial washings. (Results obtained from Shanghai Tenbro Bamboo Textile LtD)
Antimicrobial and Antibacterial Textile Benefits:
Fifty individuals suffering from the fungal infection tinea pedis commonly called athlete's foot were given antimicrobial, antibacterial socks. All fifty test subjects reported the disappearance of the burning and itching that accompanies athlete's foot within 1-2 days of wearing the socks. Within 2-6 days the blistering and sores characteristic of athlete's foot disappeared and the skin returned to normal. None of the fifty individuals reported any adverse effects after using the socks. (1)
Natural bamboo fabric is also a good choice for diabetic and compression hose. The softness of the fabric is a natural choice for this application. Lower extremity amputation among the diabetic population increased from 67,000 in 1994 to 140,000 in 2000. While amputation in the diabetic population is a viable option in the presence of significant peripheral arterial disease and gangrene, life expectancy after major lower extremity amputation is appalling with only a 40 % five-year survival rate. (2,3)
Healthcare Associated
Infections
Antimicrobial and antibacterial textiles can play a part in a strategic plan to reduce healthcare associated infections. Tactics such as isolating infected and colonized patients, practicing stringent handwashing policies, and implementing antimicrobial and antibacterial textiles can help combat the spread of a wide range of resistant bacteria, viruses and other microbes including Methicillin resistant Staphylococcus aureus (MRSA), a form of staph bacteria which is blamed for about 13 % of the nation's two million hospital infections each year according to the CDC.
"It is well documented that soiled linens harbor microorganisms that can be transmitted to others," said Gang Sun, professor of clothing and textiles at the University of California, Davis. "In light of the rise of antibiotic resistant bacteria, the development of (antimicrobial and antibacterial textiles) can be a major advancement in the battle against the spread of infection." (4 )
PRODUCTS
Jonäno™ introduces ecoKashmere™ base layer protection providing comfort with benefit:
1) Tested proven capabilities to inhibit the growth of bacteria and fungi that cause odor;
2) Hypoallergenic softness for even the most sensitive skin;
3) Increased comfort through moisture wicking;
4) Twice the moisture absorbency of regular cotton with extraordinary soil release value;
5) Classic styling for men, women and babies, available internationally at http://www.jonano.com.
Jonäno collections include their ecoKashmere Bamboo Collection, Sami Baby collection and signature Eco Scrubs Collection.
To learn more about Jonäno™, please contact Sami Designs, LLC via email info@jonano.com.
1 Frykberg RG, Armstrong DG, Giurini J, et al. Diabetic Foot A Clinical Practice Guideline. J Foot Ankle Surg, 2000;39(5 Suppl):S1-60
2 Berene J, Zgonis T, Jolly GP. Diabetes Mellitus and Pharmacologic Therapy. Clin Pod Med Surg. 20:2003: 635.
3 Petit W, Upender R. Diabetic Foot and Infections and Antibiotic Therapy. J Pod Med and Surg. Oct 2003:655-669.
4 PR Newswire, New Technologically Advanced Bed Linens Latest Development in Battle Against Microbes That Cause Hospital Acquired Infections,Wednesday, August 25 2004.
http://www.jonano.com.
Headquartered in Pittsburgh, PA, Jonäno™ is one of the few scrub companies on Earth specializing in eco-fabrics and sustainable textiles.
You can check them out at http://www.jonäno.com or call for their free brochure 1-724-935-9753.
Interview Contact: Bonnie L. Siefers, jonäno™
Telephone: 724-935-9753
blsinpa@comcast.net
jonäno, A Division of Sami Designs, LLC
2582 Wexford Run Road, Wexford, Pennsylvania, USA 15090
Mobile 412-927-4165 (USA 011) or 724-766-4493 Fax 724-935-9753
Copyright 2006, jonano, A Division of Sami Design, LLC. All rights Reserved.
###
Contact
jonano
Bonnie Siefers
724-935-9753
www.jonano.com
1-877-ECO-9753

Contact