Toojays Boutique Gives You Designer Bags without the Designer Prices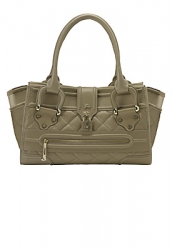 Bromley, Kent, United Kingdom, September 12, 2006 --(
PR.com
)-- Toojays brings "Designer" Bags, Sunglasses and other fashion/luxury accessories to women around the world for next-to-nothing. Most are new; some are pre-owned, all are fantastic, authentic and immaculate.
This fashion-savvy website is for women who love designer bags and accessories, without the hefty price tags. For most of us, buying "Designer" means more than wearing a label. It is also about knowing you have purchased the real thing which means originality, quality and superior materials. With Toojays, everyone can afford to buy quality, authentic "Designer" goods!
Toojays is the brainchild of PR Director, Jane Hickford. Whilst recovering from a serious illness, Bromley-based Hickford began selling her own "working" wardrobe as she decided to exchange the London commuter life to work from home. Hickford wanted more casual, stylish items but found it impossible to afford "Designer" bags & accessories.
Jane decided to make it her mission to seek out quality Designer bags & accessories for all "baggies" across the world and started selling on eBay, building up a large database and repeat customers. About 18 months later, she created a stylish, easy to use, website that makes authentic, designer bags & accessories accessible to women everywhere.
Since launching in February 2006, TooJays.com has been busy selling to customers all over the world and has introduced some luxury brand accessories and fabulous jewellery from Danish Designers Dyrberg Kern, Christian Dior and others.
Toojays also offers a search service, so if you are looking for something in particular in terms of brand/style/colour etc. Toojays do their best to find what you are looking for at the right price!
Toojays has now launched its Autumn/Winter 2006 Range:
Bags: Celine, Chanel, Christian Dior, Burberry, Fendi, Chloe, Dolce & Gabbana, Hermes, Tanner Krolle, Louis Vuitton and more!
For further information, please contact:
Jane Hickford
00 208 819 6725 jane@toojaysboutique.com
www.toojaysboutique.com
###
Contact
Toojays Designer Boutique
Jane Hickford
0044 208 819 6725
www.toojaysboutique.com
sip address: 4010@toojaysboutique.com

Contact