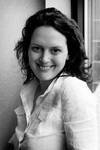 Raleigh, NC, September 13, 2006 --(
PR.com
)-- After two years as a successful wedding, portrait, architectural and commercial photographer, Cara Grace Galati, principal of CGG Photography in Raleigh, is taking on a partner and expanding her services by launching "ƒ8 photo studios" this month, which will be headquartered in the historic Royal Bakery building on Hillsborough Street.
Galati, a native of Charleston, S.C., has worked mostly on location since she began her career as a photographer. She decided to open a studio so she could offer her clients more amenities, including an elegantly appointed "viewing room" (furnished by Porto of North Hills) where brides and other clients will enjoy wine or coffee while watching a presentation of their photo sessions on a large plasma television screen. Here, brides will also be able to design their own wedding albums at leisure and in comfort.
"I want this whole thing – the process of being photographed – to be an incredible experience for my clients," Galati said recently as she was working with Kate Foster Productions of Raleigh to plan ƒ8's "launch party" on September 21. "I want this to be a journey we go on together. I'm in this (photography) to create personal relationships and lifetime clients. That creates comfort, and when your clients feel very comfortable with you, that's when you can get the most out of them photographically. The interaction becomes very natural."
Galati met partner Jonathan Kaz, an award-winning wedding photographer and principal of Sixpence Studios in Waterville, Maine, at a Digital Wedding Forum (DWF) convention in Las Vegas, NV. She admired his work, which, like her own, is informed by an innovative, contemporary approach to wedding and portrait photography. Kaz shared Galati's views about the mission of the new studio and will be moving to Raleigh with his family in January 2007.
"My personal passion is telling a client's story through the details and emotions of their images by documenting life's unforgettable moments," said Kaz, who has covered weddings from Austin, Texas, to Homer, Alaska, and been published in numerous magazines.
Galati's commercial portfolio includes Stewart Engineering, Capstrat public relations and marketing, Wake Medical Center, real estate developers East/West Partners, Blo Salon, Bath Junkie, Pace Realty Group, Synergy Spa, and April & George Gallery and Wine Bar.
Galati's and Kaz's work can be seen on their new website, www.f8photostudios.com. For more information, call ƒ8 photo studios at 919-835-0999, or email Galati: cara@f8photostudios.com.
###