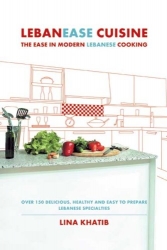 Dallas, TX, September 17, 2006 --(
PR.com
)-- 'Lebanease Cuisine – The Ease in Modern Lebanease Cooking' is a must for all lovers of Mediterranean food. Inside you will find fresh vegetarian recipes, as well as salads and stews, seasoned with a flavorsome combination of exotic spices.
This modern approach to Lebanese cuisine will make a chef out of anyone. From Hommus to Tabbouli, almost all the recipes in this book can be easily prepared and served in a matter of minutes.
"My intent in creating this book is to provide a quick and easy reference for all lovers of healthy Lebanese food." says Lina Khatib. "I hope this will help you rediscover the unforgettable tastes of Lebanon."
Born in Beirut, Lebanon, Lina has been cooking since she was Nineteen years old. Over the years, her refined and practical approach to cooking has made her style unique. And her desire to share her recipes with the world has added the 'ease' in Lebanease cuisine.
The book can now be ordered at Amazon.com
###