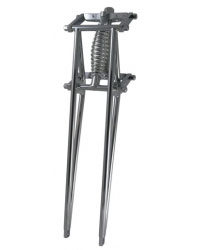 Orlando, FL, September 21, 2006 --(
PR.com
)-- Durfee Girders hits the road with Guilty Customs! These words are like music to the ears of those who experienced the chopper industry first hand during the 60's and 70's or through stories passed down from one generation to another. Those in the custom chopper community know Durfee Girders. Known for their attention to detail, strength, craftsmanship and pure aesthetic appeal, Durfee Girders and Guilty Customs have crafted an exciting dealer relationship that will serve the custom motorcycle industry. Some history is worth repeating.
"You can style a front end to look just about any way you want it, but if you want something that looks good, works properly and will last, look no further than the Durfee Girder," says Paul Durfee, the son of the founder, Earl Durfee. Founded in 1969, Durfee Girders were built to stand the test of time, and is one of the best and highest quality girders on the custom market. "The Durfee Girder's triangular structures and state of the art materials gives it the ability to withstand 58,000 pounds of compressive strength," says Durfee. So, if you're looking for something better and different than the same old glide that everyone else is using, Durfee has taken their famous girder and enhanced it with modern technology to produce the highest quality and most reliable custom front end for your motorcycle.
Durfee Girders and Guilty Customs share the passion of providing to the riding community a dependable and unique motorcycle front end that harkens back to the earlier years of this industry. Match this with the people to support the consumer after the sale, and this relationship was an easy choice for both Durfee and Hanlon, owner of Guilty Customs.
"The Durfee Girders unique styling, history in the industry, superior handling characteristics and superior grade materials makes this girder not only of interest to those nostalgia fans, but will also gain the attention of builders interested in producing truly unique motorcycles," says CJ Hanlon, owner of Guilty Customs. In keeping with the level of customization needed by today's builders, the Durfee Girders can be built to fit the needs and wants of the individual builder. The base price for a Classic Durfee Girder is $1795.00 (powdercoated narrow glide) and $1995.00 (triple chromed narrow glide).
Durfee Girders (www.durfeegirders.com) is the world's leading designer, manufacturer, and supplier of custom tubular girders. As a manufacturer, Durfee Girders can be found through their network of dealers such as Guilty Customs.
Guilty Customs, LLC (www.guiltycustoms.com) is a motorcycle manufacturer that is quickly establishing itself in the custom chopper industry by bringing to the discerning consumer, innovative and "rider friendly" custom motorcycles at an affordable price. Guilty is also developing a strong retail presence by developing their own line of custom products and network of manufactures such as Durfee Girders, USChoppers, Kiwi Motorcycles, Kelderman AirRide, Redneck Engineering and many others. Guilty is one of the few companies with a line exclusively for female riders.
In Hanlon's words, "at Guilty Customs, we are guilty!... of wanting to give the motorcycle enthusiast the bike and the experience they deserve!"
###