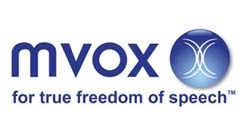 San Diego, CA, September 26, 2006 --(
PR.com
)-- Mvox debuts Mvox Duo™, the world's first wearable Smart Communicator™, an advanced hands-free communicator with one-touch voice dialing at DEMOfall '06. Mvox, www.mvox.com, is a leading provider of highly portable smart voice interface devices to facilitate real-time mobile communications.
The tiny Mvox Duo Smart Communicator is an all-in-one, wearable communications platform, which combines a cellphone headset, hands-free car kit, and mobile conference speakerphone and VoIP headset or speakerphone.
In order to communicate via cell and VoIP, mobile professionals need to juggle a combination of wired or wireless devices, which in most cases provide underwhelming performance and an overall frustrating experience. Callers and call recipients commonly complain about annoying echoes, 'tin can' voice quality, and distracting background noises.
The Mvox Duo features one-touch intelligent voice-dialing for simplifying inbound/outbound calling, which allows users to keep their eyes on the road and hands on the wheel while driving. Unlike traditional wireless headsets and speakerphones, the Mvox Duo offers industry-first features that improve the foundation for more productive conversations. New advancements include:
• An innovative wearable design seamlessly integrating headset and speakerphone to facilitate versatile usage and comfortable wearing
• Near 100% voice recognition rate powered by extremely accurate speech recognition algorithms
• Superior noise and echo cancellation through patent-pending small array microphone (SAM) technology. Two small array microphones create a unique three-dimensional voice cone, which grabs the speaker's voice clearly, improves voice recognition, and blocks out background noises and echoes
Chris Shipley, executive producer of DEMOfall, says, "The Mvox Duo offers a versatile, real world solution that will appeal to just about every DEMO attendee, including myself. I am amazed at how much functionality is packed into this tiny device. The ability to only carry one device will eliminate the clutter I have to take with me everywhere, while making it safer to answer and make important phone calls when on the road."
"We researched what road warriors need for day-to-day mobile communication, during the commute, in the office, and while traveling for business, in order to deliver a product that would help them communicate more effectively," said Sally Li, VP of Marketing at Mvox. "Today, users complain about poor voice quality caused by severe echo and noise interference, and the inability to have one device that works across all typical communications platforms. The Mvox Duo creates an entirely new platform for high performance, wearable, and voice-controlled communications that also eliminates the need to alternate between four different devices."
Designed for a variety of mobile applications, the Mvox Duo fits comfortably over the ear for private conversations and can instantly convert into a high-performance speakerphone for on-the-spot mobile conference calls. The powerful integrated speakerphone outperforms even the best loudspeakers built-into most cell phones. It attaches to a collar or lapel, worn around the neck with the included neck trap, placed on the table top, or clipped to a seatbelt.
The Duo can also connect to a PC via USB or Bluetooth as a speakerphone or wireless headset for VoIP applications, including AOL, Avaya, Skype, Yahoo, Gizmo Project, and Google Gtalk.
An integral part of the Mvox Duo wearable platform is the Mvox Wizard™ software, which simplifies, optimizes, and personalizes user experience. It walks users through pairing the Duo with their phone, creates and manages their contact list, and also provides a diagnostic and repair tool to help solve potential problems in the field.
Key Features:
• World's 1st integrated wireless headset and speakerphone
• Ergonomically designed holster for seamless conversion between headset and speakerphone modes
• One-touch voice dialing with near 100% voice recognition powered by state-of-the art speech recognition algorithms
• Phone-independent, local phonebook to carry contacts from phone to phone and PC to PC
• Patent-pending small array microphone (SAM) noise and echo cancellation technology
• Advanced handsfree voice calling, supporting calling card, extension numbers, voice mail, voice commands, and more
Images:
http://www.flickr.com/photos/briansolis/sets/72157594298276364/
About Mvox Technologies, Inc.
Headquartered in the heart of Silicon Valley, Mvox develops and markets award-winning wearable smart voice interface devices.
Mvox is partnered with major mobile device, infrastructure, and communication manufacturers including AOL, Avaya, Palm, and Skype. Mvox products are available and supported through business and consumer channels, such as Avaya value-added reseller channel, and national and international retailers, including palm.com, RadioShack, and amazon.com. For more information, visit www.mvox.com.
Mvox™, Mvox Duo™, and Mvox Wizard™are trademarks of Mvox Technologies, Inc. All other trademarks mentioned in this document are the property of their respective owners.
Press Contact:
Brian Solis, FutureWorks, Inc., 408-428-0895x101, brian@future-works.com
###