DJ Afrika Bambaata Premiered Da Common Cauze Debut Single The Last Shall Be First on his Radio Show "True School"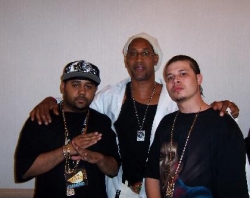 New York, NY, September 28, 2006 --(
PR.com
)-- On September 20, 2006 DJ Afrika Bambaata premiered Da Common Cauze debut single The Last Shall Be First on his radio show "True School" at WHCR. Bambaata is the second Hip Hop pioneer to endorse Da Common Cauze.
The First being DJ Kool Herc himself at the Advanced Music Seminar, held this past summer at the Pennsylvania hotel in New York City. It was one of the best music events of the summer. Mrs. Emani P. Taylor Esq put the Seminar together, and she did an excellent job of putting together a roster of top entertainment people for the three-day event. We are talking about Sharon L. McPherson Esq, Deron Tucker Esq, Bert Padell, Jay Hamilton, Maria Davis and Dj Kool Herc just to name a few. This was a three-day crash course on the music industry from the people who make the deals. Everyone from record label executives, A&R's, record producers, studio managers were present.
Da Common Cauze a hip hop duo from the Bronx, NY were the first artist that Allout recording & entertainment CEO Mark "Gangsta" King signed to the label In hopes of putting the Bronx and Harlem back on the Hip Hop map. Da Common Cauze first single" The Last Shall Be First" has been given rave reviews from music industry insiders. Most notably Ray Roberts of RCI Music Promotions "We consider this particular song very chart worthy and very commercial. We believe that this product will exceed in sales 10,000 units at the least."
Da Common Cauze has 5 tracks on the soon to be released Allout Compilation Hostile Takeover cd. Slated for early 2007. K-Dash A.K.A. Kotic of Da Common Cauze solo single "Da Bronx" is slated for late 2006. It's the ultimate Bronx anthem so put your X up in the air, the Bronx is about to make a big comeback.
###
Contact
Allout Recording & Entertainment Inc.
Mark King
718-688-1910
www.alloutentinc.com

Contact