Cerebral Market Wordplay Series Dodges EO Rating
Author Thaddeus Taylor, relieved at the change of heart on the part of the Review Board, "uncancels" his appearance in Houston. He will discuss & sign copies of Volume One of his Smoking Pun series at 3 p.m. on Saturday, October 14 at the Borders on Kirby.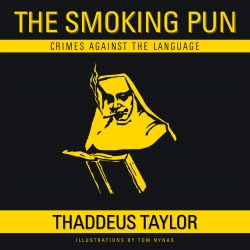 Houston, TX, October 11, 2006 --(
PR.com
)-- San Antonio author Thaddeus Taylor is going to Houston after all. He will be discussing and signing Volume One of his controversial Smoking Pun series at 3 p.m. on Saturday, October the 14th at Borders on Kirby. Taylor today formally thanked the Review Board for backing off their initial EO (Exceptionally Objectionable) rating and deciding instead on an SF for the book, which is subtitled Crimes against the Language. According to the Board, an SF rating officially indicates that the book is suitable only for Smart Funny people. Taylor, while acknowledging that this might limit mass appeal, said that San Antonio and Austin events had been well-attended and protest-free, and that "there are bound to be lots of smart funny people in Houston, right?"
Readers Encouraged to Participate
The Smoking Pun series features a combination of more or less useful new words, plus etymological notes and entertaining digressions. It also leads the reader to bonus online content at www.smokingpun.com, and provides the opportunity for would-be neologists to submit their own words for future volumes Salt in the Wound and Born Again & Again. This seemingly innocuous format has caused controversy because of the irreverent nature of some of the material, but Taylor points with pride to the fact that volume one contains no pictures of the Prophet.
No Time to Stop Evolving
Cerebral Market, established in 2005, takes its mission from a line in Leonard Bernstein's This I Believe essay: "We must encourage thought, free and creative." But Fratello Astuto, founding brother of the company, puts it another way:
"When it comes to the human brain, now is no time to stop evolving. It's vital that we help find new ways to keep the fun in cerebral functioning."
###
Contact
Cerebral Market
Beverly Diane
210-745-2665
www.cerebralmarket.com

Contact