topseos.com Ranks the Top Organic Optimization Firms for the Month of October 2006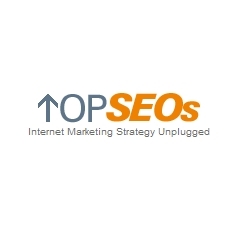 Plymouth, IN, October 11, 2006 --(
PR.com
)-- A lot can be said about Internet marketing. There are countless ways of marketing on the Internet, not to mention the vast number of potential audiences that the Net can reach out to. The bottom-line, however, is all about appearing on the right search engine. This list by topseos.com is the guide to finding one's way to the front pages of the leading search engines.
Just as it has been doing in the past; topseos.com is once again ready with its latest list of the leading Organic Optimization firms, consultants and services. The list that topseos.com compiles each month enjoys great repute amongst Internet users for its reliability and accuracy.
Organic Optimization is all about working on the basic elements of a website. The purpose of doing so is to increase the visibility of the site. The importance of website visibility should not be taken too lightly since websites, after all, are visual media. Organic Optimization deals with the complex, but crucial, process of synchronizing websites with search engines and key search words. By doing so site owners can ensure that their site will be visible despite the clutter that is always present on the Internet.
topseos.com was conceptualized based on the realization that the search engine marketing industry was in dire need of a comprehensive source reflecting the latest developments in the industry. Ever since the site was launched it has maintained its status as the premium one-stop portal where Internet marketing and service providers can display their services.
Here's the list of the top 30 Organic Optimization firms that are selected for October 2006:
1. Kinetic Results – New York
2. Zunch Communications, Inc.- Texas
3. Intrapromote LLC – Ohio
4. iProspect – Massachusetts
5. SEO Image, Inc. – New York
6. Bruce Clay, Inc. – California
7. Telic Media – California
8. eTrafficJams.com – Florida
9. TopRank Online Marketing – Minnesota
10. Web Monopoly Inc. - California
11. UnREAL Marketing, Inc. – Pennsylvania
12. Prime Visibility – New York
13. Web Targeted – Utah
14. ArteWorks Business Class – Texas
15. Neutralize – United Kingdom
16. Net Pointers Asia Pacific - NZ
17. icrossing – New York
18. Reprise Media – New York
19. Portent Interactive – Washington
20. Submit Express – California
21. Alchemist Media, Inc. – California
22. Bigmouthmedia.com – United Kingdom
23. Blizzard Internet Marketing - Colorado
24. First Page SEO – Canada
25. 360i LLC – New York
26. Attach, LLC – California
27. Alpine SEO – Colorado
28. SearchMar, Inc. – California
29. Oneupweb® - Michigan
30. Marketleap - Oregon
The accuracy of the ranking above is verified by the rigorous selection process that is employed before naming the candidates. Selection of the candidates is based on the following criterions:
• Competitive advantage
• Title optimization
• Keyword research
• Copywriting
• Superior services and pricing
• Link development
• Response to client problems
• Innovations that set it apart from the competition
• Usability and overall efficiency
• A staff with technical and marketing skills
• Overall performance
Firms that specialize in Organic Optimization and wish to be considered for the topseos.com rankings can complete an application by registering as a service vendor and applying for rankings at:
http://www.topseos.com/option,com_register/task,providerRegister/
Want to research and evaluate Internet marketing firms?
Visit them at
www.topseos.com
###
Contact
topseos.com
Bill Peden
866-237-8704
www.topseos.com

Contact