Surfboards-as-Art Fetch Thousands at Art Show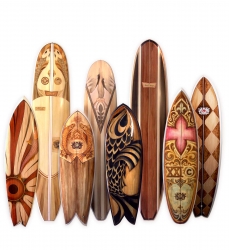 Raleigh, NC, October 14, 2006 --(
PR.com
)-- One-of-a-kind surfboards, handpainted by Raleigh-based artist Clark Hipolito are fetching prices upwards of $5000 during their Wilmington, NC, art show.
Hipolito, principal of The Art Company Inc. and one of the owners of Porto, a home furnishings store in Raleigh, is an avid surfer himself. He decided to use surfboards as his canvas of choice to create a collection entitled "Against The Grain" that debuted at Deluxe, an upscale restaurant in downtown Wilmington, in July. Brian Wynn of Wynn Surfboards in New Jersey shaped the boards and Raleigh artist Tony Ramsi assisted Hipolito.
According to The Line Up magazine, "nearly every board was sold for double and triple the minimum $1000 reserve prices" on opening night of the show, which the magazine calls "one of this summer's hottest art shows." Hipolito was also offered over $5000 for a 6'2" board entitled "Coi Fish," The Line Up points out, but the artist "wants to keep this one for himself."
Clark Hipolito moved to Raleigh from New Jersey in 1994 after working as an artist at MTV. He founded The Art Company to focus on creating large-scale murals, specialty finishes, original art and interior design. Over the past 15 years, his work has expanded nationally and has been seen in major museums, music venues, and sports arenas, as well as on episodes of "Sex In The City," "Dawson's Creek" and "One Tree Hill." One of his large murals as well as his specialty finishes can be seen in Porto, which opened in Raleigh's North Hills two years ago.
For more information on Clark Hipolito or The Art Company, visit the website: www.art-company.com. For more information on the handpainted surfboards, email the artist: clarkhipolito@mac.com.
###
Contact
The Art Company
Kim Weiss
919-272-8615
art-company.com

Contact