Comedy Central's Jade Esteban Estrada is 'Seriously Funny'
Comedian returns to Omaha to headline annual comedy concert for CFEP Oct 21.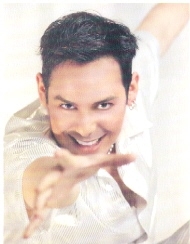 Omaha, NE, October 17, 2006 --(
PR.com
)-- Comedy Central star Jade Esteban Estrada will headline Seriously Funny 2006 at 8:00 p.m. Saturday, October 21, 2006 at the Old Market Events Center located at 10th and Pacific Streets in downtown Omaha, Nebraska. Silent auction and hors d'oeuvres start at 6:30 p.m. Tickets are $30 general admission/$90 VIP seating (which includes pre-show party). Television personality Carol Kloss of KETV, and local comedian Salza will also appear. Tickets available online at www.cfep-ne.org or by calling (402) 398-3027.
Tom Sime of the Dallas Morning News calls him "funny and irreverent." "You'll laugh your butts off when Jade Esteban Estrada takes center stage!" states Out Magazine. The Advocate calls him "exquisite" and NBC News calls him "America's Prince of Pride." Bob Fischbach of the Omaha World-Herald calls him a "multitasking Latino performer."
Estrada, who is a former choreographer to Charo and scratch vocalist for the Back Street Boys, is best known for his appearances on Comedy Central's "The Graham Norton Effect" and "In The Life TV" on PBS. His Latin dance music can be heard on the Golden Globe and Emmy award-winning police drama "The Shield."
The man Out Magazine calls "the first gay Latin star" headlined Nebraska Pride's mainstage in 2004 and 2006. He premiered his solo shows Icons: The Lesbian and Gay History of the World, Vol. 1 and its sequel at the Millenium Theatre in March 2005. His is co-founder of the Diamond Foundation, an organization that provides scholarships, mentoring and leadership programs for students in the state of Nebraska.
Estrada received the 2004 Audience Favorite Award in Solo Performance at the 2004 Columbus National Gay and Lesbian Theatre Festival for the show ICONS: The Lesbian and Gay History of the World, Vol. 2. He also received the 2005 Performance Artist of the Year recognition at the Pride in the Arts Awards last year. His most recent solo show ICONS: The Lesbian and Gay History of the World, Vol. 3 was awarded Best Solo Performance and Best Original Music. The musical received special notice for Estrada's composition and performance of the song "Republican Princess," sung by the character Mary Cheney, daughter of Vice President Dick Cheney. Outlook Weekly calls him, "one of the greatest solo theatre artist of the 21st century."
Citizens for Equal Protection is a nonprofit organization that advocates equality for the gay, lesbian, bisexual and transgender citizens of Nebraska. This is Estrada's first performance for the organization.
For more information log onto: www.getjaded.com. For high resolution artwork or to request and interview please contact Greta Golding at Vicarious New York at 646-342-8647 or email us at VicariousPR@aol.com.
###
Contact
Vicarious New York
Greta Golding
646-342-8647
www.getjaded.com

Contact