Pasternak Finding's Unveils New Colored Sterling Silver Mesh Chains Collection
Pasternak Finding's unveils its new collection of trendy mesh cable chains. The new chains collection soo immediately became a hit in the jewelry findings industry as it offers an extra touch of color, beauty and exclusivity to jewelry designers and goldsmiths.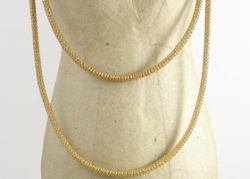 Tel-Aviv, Israel, January 15, 2010 --(
PR.com
)-- Pasternak Finding's new collection of trendy
mesh cable chains
are a best-selling hit in the jewelry findings industry. With the purchase of 1m of any sterling silver mesh chains from the new collection, Pasternak Findings is offering a complimentary pair of matching sterling silver tube end caps and a matching 8mm sterling silver lobster clasp or 9mm trigger clasp (limited time launching offer).
What makes these chains so unique and special? The mesh cable chains will add an extra touch of color and enhance the beauty and exclusivity to jewelry designs. Available in a variety of colors, 3mm in diameter, and made of sterling silver 925, these versatile chains match all types of fashion trends. With strong and bold colors, the chains can be combined in gold and silver designs and worn as long or short chains. In addition, these mesh cable chains [b]will not tarnish[/b]. The chains independently make a statement with their simple beauty, and one may add a pendant to create a trendy jewelry piece.
The chains are colored with a process called galvination, in which "color" is applied to the chains- similar to the rhodium plating of white gold plating as part of the finishing of white gold jewelry pieces. Galvination differs from the cheap versions of gold plating used in costume jewelry in that it is stable, strong, and of supreme quality. The chains should not be exposed to heat, such as in soldering, or to acids, as is done in the process of finishing regular bench jewelry.
To finish the chains, attach tube end caps using Pasternak Finding's special jeweler's glue. Pasternak Finding's special adhesive compound adheres a large variety of materials, including metals, glass, stones and leather. Suitable for gluing end caps and stones, Pasternak's glue is extremely strong, fast drying and long-standing.
Pasternak Findings' new collection of mesh cable chains is available in five colors at: www.pasternakfindings.com/category/sterling_silver_cable_chains
Pasternak Findings is a privately owned
jewelry findings and jewelry making supplies
company, held by Zeev and Martine Pasternak, who have been in the jewelry findings supply business for more than 20 years. Pasternak Findings is the "one-stop-shop" destination for goldsmiths, designers, creators, small manufacturers and students alike who are looking to create fine jewelry. Pasternak Findings prides itself on the quality of its customer service as well as the wide, diverse variety of jewelry findings and jewelry making supplies offered. The wide variety of products that Pasternak Findings offers serve the leading jewelry companies in the world as well as well as major global jewelry magazines.
###
Contact
Pasternak Findings
Dan Alon
+972-3-5256047
www.pasternakfindings.com

Contact