Remote Backup Software Provides the Quickest Route to Software as a Service (SaaS) Profitability and ROI
Online backup software and services deliver benefits to both clients and service providers.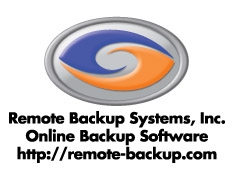 Memphis, TN, October 31, 2006 --(
PR.com
)-- Remote Backup Systems, Inc. (RBS), developer and distributor of RBackup™ online backup software on the web at
http://remote-backup.com
, today announced that a growing number of technology service companies are choosing its RBackup product to support their Software-as-a-Service initiatives.
Software as a service, or SaaS, is an emerging business model in which companies leverage the resources and expertise of offsite organizations to complete mission-critical, and often expensive or time-consuming, business processes. SaaS also allows organizations to access advanced business functionality at a cost that is typically much less than paying for licensed applications. SaaS pricing is usually based on a monthly fee.
Data backup is at once the most important and the most neglected technology-related task at many companies, and is also ideally suited for the SaaS delivery model. Backups are often low on a businesses priority chart- if they are not forgotten altogether - and performing the backups correctly can be an expensive proposition. Because key components of online backup software are hosted remotely, users typically don't need to invest in additional hardware. SaaS removes the need for organizations to handle backup software installation, setup, and daily upkeep and maintenance.
"As companies continue to embrace online data backup in record numbers, online backup via SaaS is emerging as the preferred adoption model at many of these organizations." commented Tommy Gardner, Director of Sales and Marketing for RBS. "On the service provider side of this equation, remote backup is perhaps the ideal IT service for distribution through SaaS - as it requires low resource dedication and provides an additional recurring revenue stream."
More information about deploying online backup services under the SaaS model, or to find a remote backup service provider, interested parties may visit the Remote Backup Systems corporate website at http://remote-backup.com
About Remote Backup Systems, Inc.
Remote Backup Systems, Inc. is the global leader in the distribution of Client and Server software to rapidly deploy a high reliability, high security Internet-based online backup service, and a robust range of support services including national customer referrals. In 1989 RBS designed the world's first online backup software for microcomputers, which has been available to the public since 1991. With over 8000 remote backup servers active in 67 countries, RBS founded the online data backup industry and leads the market with experience, innovation, and support.
Contact: Tommy Gardner
Remote Backup Systems, Inc.
Online Backup Software
901-850-9920
sales@remote-backup.com
http://remote-backup.com
###
Contact
Remote Backup Systems, Inc.
Tommy Gardner
901-850-9920
http://remote-backup.com

Contact