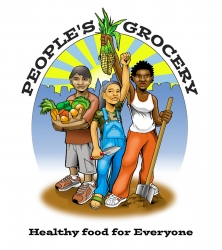 Oakland, CA, October 31, 2006 --(
PR.com
)-- In West Oakland, the number one cause of death is heart disease, and health issues start early. School cafeterias and hallway vending machines are notorious for high-calorie, fatty foods. Ironically, the school food systems diminish the quality of their students' work and morale, as studies show that unhealthy snacking is largely responsible for difficulty in learning, absenteeism, and poor physical fitness and mental lethargy. After-school snacking is not much better where liquor stores far outnumber grocery stores, and vegetables are rare commodities. Not surprisingly, Oakland's teachers and site coordinators pressed for healthier food for their students.
People's Grocery responded to their plea by launching a Healthy Snack Delivery Program in March, 2006. The program provides simple low-sugar, low-fat snacks, such as fruits, nuts, snack bars, smoothies, and fruit juices, which positively affect students' development and energy. The foods are directly delivered every week to participating schools, and are priced at wholesale rates. Finally, People's Grocery provides educational materials to the sites, helping empower the faculty to engage their students in issues of nutrition, and how and why to choose healthier snacks. Since the program's inception, People's Grocery has distributed healthy snacks to over 1,000 students per week at 10 after-school sites in the Oakland Unified School District.
Geralina Fortier, Peer to Peer educator at People's Grocery, conducts follow-up visits at the program sites. She enjoys connecting with students and facilitating their awareness of the new food options: "There's always the out-going child, and the quiet child, and the one who is skeptical. I try to encourage the quiet child to speak about why he or she thinks the new snacks were needed, and how they felt before and after eating these foods. I try to satisfy the skeptical students' questions, because if they are convinced, they'll end up enthusiastic, and will get the word out."
Many teachers have found the peer nutrition presentations very helpful in getting students excited about healthy snacking. Laila Jenkins at the Prescott Elementary School praises the program highly: "I have definitely seen a difference in the behavior of these children as a result of the improved snacks they've been eating. They are less hyper and much clearer of mind. And best of all, they are trying new foods and enjoying them!"
People's Grocery encourages interested schools to contact the organization's executive director, Brahm Ahmadi, at (510) 652-7607 or brahm@peoplesgrocery.org, and visit People's Grocery's website at http://www.peoplesgrocery.org.
###