Women to Net Fishing Skills at "Ladies, Let's Go Fishing!" Gulf Coast Seminar, Naples, FL March 19-21, 2010
Women from all around the country can learn fishing skills the "No Yelling" way in Naples, FL March 19-21. Seminars provided by "Ladies, Let's Go Fishing!" and fees are affordable. An optional fishing trip is offered the last day of this exciting weekend seminar. Great for building confidence.
Naples, FL, March 08, 2010 --(
PR.com
)-- Women of all angling abilities can learn or fine-tune fishing skills at the award winning "Ladies, Let's Go Fishing!"® seminar, March 19-21, 2010 in Naples, FL. Held in conjunction with the Florida Fish and Wildlife Conservation Commission (FWC), the program will offer a weekend of educational fishing activities at the Naples Harbour Yacht Club, with hotel accommodations at the quaint Lemon Tree Inn. The program has rolled back prices with a $99 early entry discount for reservations extended to March 12.
The seminar will kick off with the Harbour Financial networking happy hour at the beautiful Naples Harbor Yacht Club on Friday evening, March 19, from 6-8 pm. The classroom portion starts at 8:00 am on Saturday, March 20, where fishing techniques will be taught at beginner and intermediate/advanced levels in the morning. Fishing topics and speakers will be Capt. Dave Spitnale/Rod and Reel Basics, Capt. Jon Fetter/Inshore, Capt. Will Geraghty/Offshore-Bottom and Capt. Roan Zumfelde/Fly Fishing. After lunch, the women will participate in several "hands-on" fishing stations, such as conservation techniques, spin casting, net casting, landing and releasing, trailer backing, fly casting, knot tying, gaffing grapefruits, boat handling and reeling against pressure, until 4:30 pm. On Sunday, March 21, participants have the option to practice their newly learned skills from either a bay/backcountry or group boat, followed by a fillet demonstration.
Year after year, participants praise the program and share the experience with fellow female anglers. "Being able to pick, choose, and move between skill stations was terrific! I loved the flexibility," commented Mary Hackney, Naples, FL. Cindy Tutino, Naples FL added, "It's incredible how much I learn each time I go through this seminar! When I thought I was pretty good at fishing, I found out I can learn a whole lot more!"
Featured on national network television and more, the series is held in conjunction with the FWC through the Sport Fish Restoration Program, with major partners such as Ranger, BoatU.S. ANGLER Insurance, Gulfstream Int'l Airlines, Minn Kota, Humminbird and Magic Tilt Trailers. There will be opportunities for local businesses and area anglers to take an active role in the seminar.
Early registration is just $99 when made by March 12, then $125 the week of the event and $145 for walk-ins. Registration includes instruction, use of equipment, hands-on training, networking reception, silent auction, meals, goody bags and more. The Sunday Fishing Adventure, with tackle and bait provided, is additional. Graduates are invited to join the LLGF Naples Chapter, offering monthly meetings, networking and fishing opportunities.
The beautiful Naples Harbour Yacht Club is located at 475 North Road, Naples, FL 33104; www.ycoa.com. The host hotel is the quaint Lemon Tree Inn, located at 250 9th St. S., Naples, FL 34102. To book please call 1-888-800-LEMO (5366) or email innmanager@hotmail.com; www.lemontreeinn.com. A second host hotel is Marriott Fairfield Inn & Suites, phone 239-261-3500. Overnight hotel rates are $129-149 per night, offered at a good value for Naples in season. In addition to the Naples workshop, the 2010 schedule includes additional workshops: April 23-25, Stuart; June 11-13, Fort Lauderdale and Nov. 12-14, Islamorada. Contact: phone (954) 475-9068; email info@ladiesletsgofishing.com; website www.ladiesletsgofishing.com.
###
Contact
Ladies, Let's Go Fishing
Betty Bauman
954-475-9068
www.ladiesletsgofishing.com

Contact
Multimedia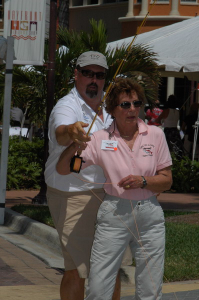 Elaine Royal, Naples, FL learns Fly Casting from Capt. Roan Zumfelde