Master Massage Announces the First UL Listed Massage Table Warmer
Master Massage, a US major massage table manufacturer has just released its first UL listed Professional Massage Table Warmer. This is the first UL listed massage table warmer released by a major US massage equipment brand. The table warmer features faster and more controllable heating options than current products available, while emphasizing the safety and energy-saving issues concerned by massage therapists and consumers.
Skokie, IL, March 24, 2010 --(
PR.com
)-- Master Massage has announced the release of its first UL listed Professional Massage Table Warmer. This is the first UL listed massage table warmer produced by a major US massage equipment manufacturer.
The release of this UL listed table warmer aims to answer the safety issue that largely concerned by massage therapists and home users who use electric warming pads during massage sessions. In addition to the exclusive Thermo-Control wiring system, the table warmer features 10 levels of adjustable heat settings and a 4-hour auto shutoff function, accommodating various needs of consumers and ensure the safety of use.
"After years of research and the rigorous safety testing procedure with the Underwriters Labs, we finally could bring consumers with this safe and high-performance electric massage table warming pad," said Michael Friedman, the President of MHP International, the manufacturer.
In addition to its noteworthy safety features, this UL listed table warmer by Master also showed an impressive performance in heating functions. According to Rich Nagel, an experienced electrical engineer, it delivers heat faster and more evenly than current UL warming pads available on the market. The Master UL listed Professional Massage Table Warmer reached the 87F degree temperature in 6 minutes while a low-voltage UL listed table warmer takes 15 minutes to reach the same temperature. "It is like a Harley compared to a Moped," said Rich.
Rich also explained why this table warmer could perform better than other UL listed warmers compared in his lab. "The wire is appropriately sized and distributed 50% more densely than other table warmers compared," said Rich, "which makes the warmer heating up significantly faster than regular products, and the heat is released more evenly so no 'dead spot' is left in the area covered."
With the needs and safety of professional therapists in mind, Master Massage has invested heavily on product research and consumer satisfaction in the past decade. Michael Friedman, the President of MHP International believes that great products should be responsible for every single investment consumers make and reward them with long-term happy use. "This Table warmer is such a small investment that will make you and your customers happy for years," said Michael, "as we believe all of our professional massage products do."
About Master Massage
Master Massage is a brand under MHP International which is currently the largest massage table manufacturer in the US. MHP International has been providing quality massage tables and equipments both in wholesale and to consumers since 1997. For more information visit the website
mastermassagetables.com
About UL
The Underwriters Laboratories (UL) one of several companies approved for such testing by the U.S. federal agency OSHA. UL listed Products and their components are tested to UL's rigorous safety standards with the result that consumers live in a safer environment than they would have otherwise. Source: http://en.wikipedia.org/wiki/Underwriters_Laboratories
###
Contact
Master Massage Products
Nan Ke
847-972-6616
mastermassagetables.com

Contact
Multimedia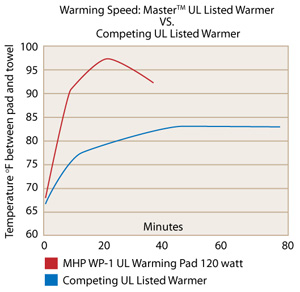 This Graph shows that compared to a low-voltage table warmer, the Master™ warmer heats to the desired 87ºF temperature in as little as 6 minutes, while a competing low-voltage UL warmer takes more than 15 minutes.