Louis A. Capazzi Jr., Attorney at Law Client Testimonials
Louis A. Capazzi Jr., Attorney at Law is celebrating over 20 years in the law industry. He has represented and helped thousands of clients over the years and has received many testimonies from his clients.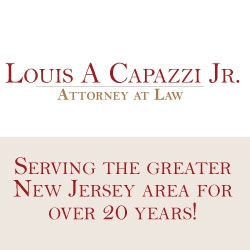 Oradell, NJ, March 24, 2010 --(
PR.com
)-- Louis Capazzi has been in business for 20 years serving the greater New Jersey region with his excellent service and expertise in the field of law. Throughout the years he has worked with many businesses and clients with a reputation of great service, work ethic, and simply getting the job done effectively. Louis Capazzi's law firm is built on strong business-to-business relationships as well as integrity with every client that they work with.
Over the years Louis Capazzi has asked his clients to give feedback regarding his firm's services and integrity. Not surprisingly, his clients have been willing to give feedback and 100% of his clients turned in a good report. Below are just a few excerpts from some of the client's testimonies. You can see a full list of testimonies on Louis Cappazi's website,
www.louiscapazzi.com
.
"Louis, you've provided my staff and me great assurance and confidence that we were in the hands of someone who was capable and greatly concerned for us." -Gary Eckhardt, Branch Manager, Advisors Mortgage Group
"Thank you so much for letting me share my experience with your law firm and team of professionals in the field of saving my home. I was very nervous and loads of sleepless nights, until a friend referred me to your office." -Derby Perez, client
"I am extremely impressed with the way Louis Capazzi conducts himself and his work ethic is second to none. I would be happy to recommend any of his companies or services to anyone, knowing they would be well taken care of." -William F. Maier III, President, First Capital Mortgage, LLC
"Louis Capazzi, I would like to take the opportunity to thank you for your help and services you have provided both professionally and personally over all these years. Without your hand and hand involvement in a lot of these matters, the results would of never have come out as well as they should." -Thomas Esposito
"Louis Capazzi is considered, around our office, the easiest person to communicate with." -Brian Anderson, All Reverse Processing Corp.
"Dear Mr. Louis Capazzi, Thank you so much for everything you guys had done for us. My house was under sheriff's sale and the judge had refused to stop the sale, but you guys fought to get us to stop the sale." -Mohammad Farooq Memon, client
###
Contact
Louis A. Capazzi Jr., Attorney at Law
Louis A. Capazzi
(201) 986-1023
www.louiscapazzi.com

Contact