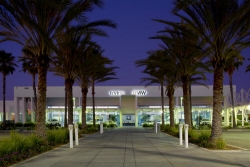 Irvine, CA, March 24, 2010 --(
PR.com
)-- Irvine BMW is proud to announce that in correspondence with the world debut of the new BMW 5 Series Sedan at the 2010 Geneva Motor Show, BMW will also show the concept of a future-oriented full-hybrid model in the upper midrange segment.
The BMW Concept 5 Series ActiveHybrid drive system offers the first ever combination of a BMW straight-six gasoline engine with electric drive, rewriting the standards for sporting pleasure at the wheel and superior sustainability in this segment.
"The new concept car offers a principally good rendition of the new BMW 5 Series Sedan in all its innovative qualities, all while representing the ongoing development of the BMW ActiveHybrid X6 and the BMW ActiveHybrid 7 with their drivetrain technology already in production," Irvine BMW General Sales Manager Steve Rudkin said.
The integration of BMW ActiveHybrid technology in a sedan that is already extremely efficient with its conventional combustion engine reduces both fuel consumption and emissions by more than 10 percent. At the same time the electric motor offers a boost function, supporting the gasoline engine in generating particularly dynamic drive power for an even more sporting driving experience in the car.
The drivetrain technology featured in the BMW Concept 5 Series ActiveHybrid allows all-electric, zero-emission motoring in city traffic. At the same time a special hybrid-based Auto Start Stop function offers additional efficiency by consistently switching off the combustion engine when stopping at the traffic lights, a road junction, or in the congested traffic people in Los Angeles and Orange County often experience.
As one of the largest BMW centers on the West Coast, Irvine BMW has loyally served Orange County for nearly a decade. The dealership's helpful and knowledgeable staff, expert factory-trained technicians and one of the nation's largest selections of new and certified pre-owned BMWs have made Irvine BMW a landmark in Southern California's automotive landscape.
For more information about Irvine BMW, visit the Orange County dealership at 9881 Research Drive in Irvine, Calif., or online at irvinebmw.com.
###