Designer's New Product Solves Aggravating Problem for Golf Enthusiasts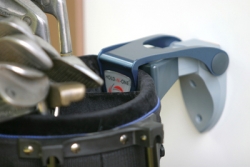 Raleigh, NC, November 17, 2006 --(
PR.com
)-- To solve the aggravating problem of top-heavy golf bags falling over and damaging the bag, clubs, and anything else in its path, The Other Edge, Inc., a product design studio in Raleigh, is releasing its first self-generated product, the Hold-N-One® golf bag holder, this week in the United States.
According to designer and avid golfer Donald Corey, 90 percent of the weight of golf bags is located above the center of gravity, which is why they tend to fall over so easily.
"After I'd bent my brand-new driver because my bag fell over and the club ended up under my car, I had a mission," he said. He had long given up on space-hogging tri-pod bags, which he'd tripped over too many times. "And I was tired of propping my bag in a corner behind the lawn mower just to keep it upright."
After scouring the market for a simple, inexpensive solution, he realized there simply wasn't one. So he set about designing his own. That solution became the Hold-N-One®, which is a wall-mounted device that attaches to the mouth of the bag through a spring-action motion to keep the bag firmly upright. (Screws and anchors are included in the packaging.)
A native of Australia, Corey successfully debuted his product in Sydney in August during "Workshopped '06," a part of Australia's premier design festival, which promotes emerging Australian designers and facilitates commercial relationships between designers, producers and buyers.
The Other Edge, Inc. is now ready to distribute the Hold-N-One® in the U.S. and Canada.
"We're certain this product will appeal to both women and men," Corey said, "because it not only saves space but also the money you have to spend on new clubs and bags when they're ruined. Besides, golfers hate tripping -- or worse, driving -- over their clubs!"
Donald Corey is president of The Other Edge, Inc. and Assistant Professor of Industrial Design at Appalachian State University. His studio's first self-generated product, he created Hold-N-One® from the initial idea, patented it, had prototypes made, and financed the manufacturing.
For more information on Hold-N-One®, visit www.hold-n-one.com. For more information on Corey and The Other Edge, Inc., visit www.theotheredge.com
###
Contact
The Other Edge, Inc.
Kim Weiss
919-601-8326
theotheredge.com
919-272-8615

Contact