Did Tom Cruise & Katie Holmes, Ben Afleck & Jennifer Garner, or Brad Pitt & Angelina Jolie Make a Wedding Memory Book From iMemoryBook.com?
About half of all marriages end in divorce. Couples who keep a wedding memory book might have a higher chance of succeeding. Did Tom Cruise & Katie Holmes, Ben Afleck & Jennifer Garner, or Brad Pitt & Angelina Jolie make a wedding memory book?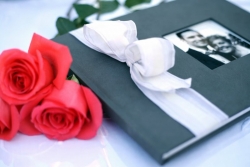 Provo, UT, November 18, 2006 --(
PR.com
)-- No, Tom Cruise & Katie Holmes, nor Brad Pitt & Angelina Jolie made a wedding iMemoryBook; but they should have. Paul Allen—one of the original founders of MyFamily.com*—in talking about the importance of
wedding memory books
said, "These have the potential to lower the divorce rate! During hard times, couples will be able to go back and remember why they love each other." Could it help Tom & Katie last longer than Tom and Nicole? Could Brad & Angelina's relationship be more successful than Brad and Jennifer's? Probably. Take for instance Derek and Wendy Thomas (Provo, UT) who are quickly approaching their first anniversary. Time is flying by, but the memories of their courtship and wedding are not. Early in their engagement, Derek and Wendy decided to make an iMemoryBook wedding memory book to record their story.
Derek wrote his perspective of how he and Wendy met and fell in love. The two were originally set up on a blind date. "I was excited," wrote Derek, "but I didn't really want to show it yet." Eventually, he showed his excitement and affection for Wendy; their relationship progressed and developed.
Without reading what Derek had written, Wendy recorded the same story, but from her point of view: "I thought for most of that first evening, his name was Brian." Fortunately, she figured out his name and their relationship began.
After recording their own stories, the couple used iMemoryBook's invitation system to invite their friends and families to contribute memories and advice. Over the course of their engagement, they watched as over 50 people from around the nation contributed to their wedding memory book—even Derek's friend in Brazil added a memory to the book. More than 100 pages of photos and memories were compiled in about 2 months. As a finishing touch, the couple added their engagement and wedding photos. Derek and Wendy's wedding memory book was professionally printed shortly after their wedding.
Almost one year later, their wedding memory book still lies on the coffee table in their living room. Guests and visitors pore over the photos and memories of the proud couple while Derek and Wendy relive their story, falling in love all over again.
iMemoryBook version 2.0 was just released to the public on November 15. Neal Harmon, iMemoryBook's founder, commented on its release: "With the Christmas and wedding season approaching fast, now is a great time to make a wedding memory book. As of Novemember 15, starting your iMemoryBook doesn't cost a cent. When your story is complete, you can use iMemoryBook's press and bindery to print your professional wedding memory book."
To start your wedding iMemoryBook, visit beta.imemorybook.com/wedding
Note: Anniversary, funeral, personal history, and baby iMemoryBooks are also available.
*Paul Allen no longer works with MyFamily.com.
###
Contact
iMemoryBook
Benton Crane
888-326-5327
beta.imemorybook.com/wedding

Contact