New Luxury Spare Bed Solution for Giving Guests a Great Night's Sleep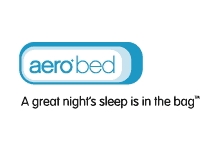 London, United Kingdom, November 20, 2006 --(
PR.com
)-- A brand-new space saving temporary bed solution that offers guests the ultimate in luxury, state-of-the-art comfort and style has been launched exclusively in John Lewis. The market leader AeroBed® has brought out its new air tight guaranteed Platinum range collection of luxurious, self-inflating airbeds that use the latest comfort enhancing technology for a perfect night's sleep.
"The new Platinum range of AeroBeds® is the result of many years' research and development into the right combination of materials, construction techniques and technology that together form the key to a comfortable night's sleep," explains Scott Bower, marketing manager for AeroBed® in the UK. "The new 'comfort zones' technology used in the Platinum range is a particular breakthrough and has had the seal of approval from the Orthopaedic Research Institute."
The new range includes the AeroBed® Platinum Cotton which features a 100% cotton sleep surface and lets you set your own comfort level with the comfort remote control feature. The mattress-height bed fully inflates and deflates in less than 60 seconds and is made using evenly distributed individual pockets of air for guaranteed all night comfort, an excellent alternative to a
sofa bed
. Simply plug into the mains and it effortlessly self-inflates at the touch of a button.
Also in the range is the AeroBed® Platinum Raised bed with comfort zone technology proven by experts to eliminate pressure points and promote a healthy spinal alignment. At over half a metre off the ground the Platinum Raised can be made up like a traditional bed but with the convenience and portability of an airbed. It inflates and deflates in around three minutes and also features the comfort remote control.
When space is an issue the AeroBed Platinum Range turns any room into a comfortable bedroom in seconds. Both air beds are incredibly versatile and can be rolled up and stored compactly in a durable carry bag for easy transport and storage. They also come with 100% cotton, quilted, machine washable mattress covers for added comfort and convenience and fit standard sized sheets. A reassuring five year guarantee is also provided.
The new Platinum range is priced from £140 to £220 and available exclusively in John Lewis.
As well as the Platinum range, there are a wide variety of other AeroBeds® available including the AeroBed Classic and the more superior AeroBed Premier range. All guest beds come in either mattress height or full bed height and are available in single, double and king-size. The AeroBed for Children is also available.
For more information and stockists visit http://www.aerobed.co.uk.
###
Contact
Aerobed
Katy Bolt
+44 020 8870 6777
www.aerobed.co.uk

Contact