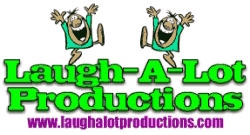 Pleasanton, CA, November 21, 2006 --(
PR.com
)-- John DeKoven, President of Laugh-A-Lot Productions, today announced the company's first annual "It's a Meshugenah Christmas - An Evening of Comedy, Chinese Food and Charity." This event will take place at the Golden Peacock Banquet and Bistro in Fremont, CA, on December 24th and 25th.
"The original concept of the show was that it would be marketed to the Jewish community as something to do over the Christmas holiday while raising money for a good cause," said DeKoven, who is Jewish himself. "In reality, the show can be enjoyed by people of all faiths who won't be having a traditional Christmas celebration or just want to come out for a great night of comedy. Most importantly, a portion of the proceeds will go to a worthy cause, Jewish Family & Children's Services of the East Bay (www.jfcs-eastbay.org). This is the time of year when everyone needs to help those in need."
It's a Meshugenah Christmas will feature four Jewish comedians, including Brian Malow, who recently appeared on the Late Late Show with Craig Ferguson; Jeff AppleBuam, who was recently cast to play Joey Bishop in "The Tribute to Frank, Sammy, Joey, & Dean - The Rat Pack" in San Francisco, Chicago, and Las Vegas; Ross Turner, who has opened for Dana Carvey, Dat Phan, Bobby Slayton, Todd Barry, John Heffron, and Robert Schimmel; and DeKoven himself who actually entered the world of comedy as a result of a long tortuous divorce that took longer then the marriage itself.
In addition to the comedy show, attendees will get an all-you-can eat Chinese food buffet.
About Laugh-A-Lot Productions
Laugh-A-Lot Productions is a Bay Area comedy production and events planning company based in Pleasanton, California. Founded by John DeKoven, the company plans and produces comedy shows for corporations, restaurants, hotels and private events throughout the Bay Area. For more information visit www.laughalotproductions.com
###