Cami's Collection Introduces Silk Blend Jaguar Hobo and Evening Handbags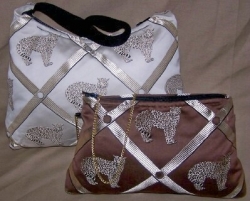 Hickory, NC, November 22, 2006 --(
PR.com
)-- Cami's Collection, a leading online seller of Jacquard Tapestry Handbags, has added four Silk Blend Jaguar Handbags to their Holiday offerings.
The Jaguar Handbags come in Hobo and Evening Bag shapes in Chocolate and Cream colors and are handmade from the Finest Silk Blend Fabrics. The Handbags feature a Beautiful Gold Jaguar Pattern. The Hobo and the Evening Bag have zippered closures and zippered interior pockets.
Cami Roberts, owner of Cami's Collection, says, "This Golden Jaguar Pattern is extremely beautiful on these rich Chocolate and Cream colors." Cami adds, "Though these are not our normal Jacquard Tapestry Fabrics, they are too stunning to not make them available to our customers and we expect them to be very popular with Jaguar fans everywhere."
Cami's Collection plans the continual introduction of new products between now and the spring season. You can find Cami's Collection at www.CamisCollection.com.
About Cami's Collection
Cami's Collection, based in Hickory, North Carolina, is dedicated to providing valued customers with outstanding Tapestry and Light Fabric handbags, duffle bags, tote bags, backpacks and accessories. Cami's Collection is a family operation with a network of local women trained in the Western North Carolina tapestry fashion industry skilled at creating quality handbags. Cami's Collection can be found at www.CamisCollection.com.
http://stores.andale.com/handbagstapestryfabric
###
Contact
Cami's Collection
Cami Roberts
828-994-0827
http://stores.andale.com/handbagstapestryfabric

Contact