Denver Video-Film Production Company Remember When ™ Announces for the Second Year in a Row It's Feature TV Broadcast, The Story of A Singing Christmas Tree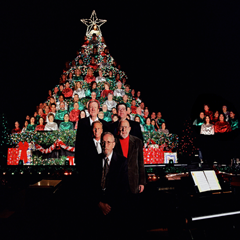 Denver, CO, November 26, 2006 --(
PR.com
)-- Remember When ™ Announces it's association with KBDI Channel 12 PBS in Denver, CO and it's full featured TV broadcast, airing for the second year in a row: Sat, December 23 at 4am and Mon, December 25 at 5pm MST. West High School Alumni choir, "The Story of a Singing Christmas Tree".
The Film Remember When ™ Presents…64th Anniversary West High School Alumni Singing Christmas Tree is a collection of music and documentary. Told thorough personal interviews with 5 choir directors and several alumni choir members. Back after 14 years, choirmasters and alumnus's alike reminisce about their days in one of the most important events in their high school years.
Filmed on location at Denver's West High School, one cannot help to be moved by the fact when they too walked the halls in high school and sang songs. Important points brought out in the film help us all understand the importance of extra activities in school, how those activities can encourage the student to stay in school, and parents working with teachers can change the coarse of our children for a life time.
Remember When ™ owners Fern Bray and Matt King tell it best when they relate their own stories of high school and how important it is for people to share their stories. It's the history of our people that needs to be past from one generation to the next replies Bray as she comments, "our children need to know where they came from to understand where they are going".
The film, Story of a Singing Christmas Tree was first premiered at Denver's West High on January 13, 2005 and brought with it comments like, "I thought the tree was just another choir, I didn't know it had all the history", or this comment, "I knew the tree was important to you mom, now I know how it affected so many in the community".
The Alumni Special Edition of the music and documentary is available for purchase. Disc One is the music of 105+ choir members. Gives one the feeling of the choir being right there in your living room. Total running time is 54 minutes Stereo and Disc Two is the movie documentary including deleted scenes. Total running time is 1hr and 35min Color SD. The photo gallery remembrances booklet is also included for a total of $48.23 shipping/handling and tax for orders within Colorado.
Also, available are re-mastered Vinyl LP records from previous years Singing Christmas Tree Choirs beginning in 1962 and running thorough 2004. The now re-stored CDs run $25.63 shipping/handling and tax for orders within Colorado. One should check with Remember When ™ when placing an order for a specific year for availability on CD. Not all the years in the past were recorded.
The Story of a Singing Christmas Tree is a perfect example of sharing with our children so they too can pass the torch to the next generation. Remember When's mission statement reads: "Remember When ™ is dedicated to the telling and preservation of all peoples history for our loved ones, and future generations."
###
Contact
Remember When
Fern Bray or Matt King
720-859-1122
rememberwhen.com
Remember When
3596 Moline St. Suite #101
Auora, CO 80010

Contact