Have a Fun, Unique, Romantic Christmas Vacation - Stay at The Terra Cotta Inn Clothing Optional Resort and Spa in Palm Springs, CA
Nudist resorts have gone mainstream. No longer considered "nudist colonies" of olden days, some modern nudist resorts rival the best boutique hotels around. With the holidays rapidly approaching, give that special someone in your life a gift to remember. Give yourselves the romantic gift of togetherness, stay at a nudist resort.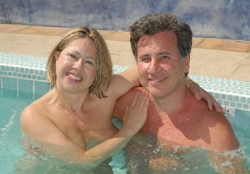 Palm Springs, CA, November 27, 2006 --(
PR.com
)-- Do you remember the line from Clark Griswold in National Lampoon's "Christmas Vacation" movie? Clark in utter frustration says to his wife Ellen, "Worse? How could things get any worse? Take a look around here, Ellen. We're at the threshold of hell." Does that movie remind you of your last Christmas vacation? Maybe it is time that you try something unique, different and fun. Try something new, exciting, and romantic. Have some fun in the sun. Vacation at a clothing optional resort in sunny Palm Springs, CA this holiday season.
"But, I'm not a nudist," you are thinking. No problem! The Terra Cotta Inn Clothing Optional Resort and Spa in Palm Springs, CA
http://sunnyfun.com
is the most mainstream nude resort in America. The media calls them the best nudist resort for couples trying nude sunbathing for the first time. Guests of the Terra Cotta Inn don't think of themselves as nudists. They just love the European style nude sunbathing. And since The Terra Cotta Inn is the only nudist resort in America that caters to couples on vacation and does not charge membership fees, they have repeat guests from around the world that stay with them. They average just over a 75% repeat guest rate which is one of the highest in the travel industry.
People's lives are hectic. They are full of stress. They deperately need to relax. That is why the Terra Cotta Inn is perfect. It is an oasis of calm in the sea of holiday uproar. With no noisy children running around, you can relax poolside all day long and not get disturbed. Yet, for those shopaholics, the largest discount outlet mall is just a quick 20 minute drive from Terra Cotta. You can relax in the warm Palm Springs sun all day long and shop all night. A present of a vacation at the Terra Cotta Inn is the perfect gift for any happy couple.
In a recent poll by American Express Travel , they found "holiday travel has evolved considerably from the local family gathering to new, exciting adventures as travelers seize the opportunity to create lasting holiday memories... Not only are travelers looking to indulge in new travel experiences, they are also treating themselves to an extra special holiday season this year with 76% of agents reporting that travelers are booking more luxury vacations this season than ever before."
With 18% of Christmas travelers being couples, The Terra Cotta Inn is perfectly situated to provide these new adventurous travelers with their best vacation ever. If you are looking for a new fun way to vacation and create your own romantic, fun holiday memories, give them a call at 1-800-786-6938. You will be glad that you did.
###
Contact
The Terra Cotta Inn Clothing Optional Resort and Spa
Tom Mulhall
1-800-786-6938
http://sunnyfun.com

Contact