#1 Ranked SEO Expert Steve Wiideman Leaves Relevant Ads
Wiideman Leaves Local Search Agency to Teach Search Engine Optimization to Business Owners.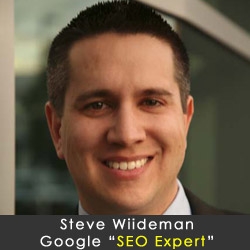 Fountain Valley, CA, May 25, 2010 --(
PR.com
)-- Search Engine Guru Steve Wiideman has spent over 5 years working with friend and colleague David Rodecker of Relevant Ads (aka: "Local Splash") and as of May 20th, 2010 has left the company he helped pioneer to teach his craft to others.
Wiideman says his focus with the transition will be shifting toward educational events and workshops, micro-websites for small businesses, and additional information products, such as his recent SEO in a Day free digital download.
"Steve is the most incredible guy - a real genius at this SEO stuff," says Business Speaker Bodine Balasco. "He has a real talent for teaching and is just an all around genuine person. This transition will be good for him and people like me who really believe in what he can achieve for himself and others."
The SEO Expert has already corralled a number of new and previous consulting clients and has reportedly launched a business selling Wordpress powered websites based on his digital work "SEO in a Day" and an SEO membership website (HelpRankMe.com) where he's reportedly sharing his knowledge of Search Engine Optimization.
About Steve Wiideman, SEO Expert
Steve Wiideman holds a Bachelor's Degree in E-Business Management and earned Congressional Recognition for his contribution to peers and small businesses, in addition to the CCA G.R.E.A.T. Award for his post-graduate achievements. Wiideman has been featured in several major publications discussing Internet Marketing and SEO, including Entrepreneur Magazine, CNN Money, Response Magazine, Visibility Magazine, National Journal and others. He is most recognized for his website Top10SEOTips.com and his background working with companies as large as Disney, Expedia, IBM, and Paciolan (Ticketmaster).
###
Contact
Steve Wiideman, SEO Expert
Melissa Wiideman
562-732-4417
www.seosteve.com

Contact