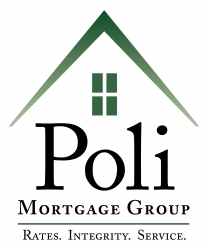 Norwood, MA, June 01, 2010 --(
PR.com
)-- Poli Mortgage Group, Inc., one of the largest privately owned mortgage companies in Massachusetts announces the opening of its first new branch office of 2010 at 110 Elm Street, Pittsfield, Massachusetts. Having an office in Pittsfield will enable Poli Mortgage Group to provide outstanding personal service and support to its clients in Western Massachusetts.
According to Chip Poli, the President and founder of Poli Mortgage Group, "We are very excited to announce our new branch location in Pittsfield, MA and we are fortunate to add John Valli and other branch members to our Poli Mortgage family. Our very successful internal platform including time-tested, streamlined process, highly secure systems and well trained and focused employees allows us to not only open the new Pittsfield branch but also to expand up and down the East Coast in 2010."
The Poli Mortgage Group staff in Pittsfield includes John Valli, a Pittsfield resident since 1986 and a veteran Loan Originator for more than 25 years. As such he was consistently ranked one of the top three loan originators with each of his previous employers. John's experience includes developing and leading educational seminars for borrowers and real estate professionals. "I am thrilled to be part of the Poli Mortgage team," says John. "We will strive to provide the best rates possible and world class service to each and every borrower whether it's for the purchase or refinance of a home or an investment property."
Also joining the Pittsfield branch is Branch Manager Judy Turtz, an attorney with 25 years experience as a real estate and land use practitioner and 13 years experience as a Loan Originator. Judy, like John, is committed to providing excellent service along with the best rates available.
To contact the Poli Mortgage Group office, please call 413-447-8525. We at Poli strive to make your mortgage financing experience an exceptional one.
About Poli Mortgage Group, Inc.
Poli Mortgage Group, Inc. is a privately held business founded by Chip and Chris Poli in 2001. Poli Mortgage, with its direct lending power, numerous banking and industry partners, internal platform & process, and best in class Customer Service, is committed to providing a vast range of customized mortgage programs to satisfyany borrower's financial requirements.Program offerings include FHA, VA, USDA, FNMA, FHLMC, ARM, debt consolidation, construction, home improvement, and other niche & jumbo loans. For more information please visit www.polimortgage.com.
MA Mortgage Lender & Broker MC1823 (Norwood), MC5460 (Boston), MC5476 (Pittsfield); NH Mortgage Banker 8761-MB; CT Mortgage Lender 10555; VT Mortgage Lender 6092; VT Mortgage Broker 0927 MB; ME Supervised Lender SLM6369; RI Loan Broker 20031537LB; RI Lender 20062141LL; FL Correspondent Mortgage Lender CL0700598 (MA Office), CLB0700662 (Miramar Office), CLB100000705 (Pensacola Office); GA Residential Licensee #23995; IL Residential Mortgage License MB.6760659; AL Consumer Credit 21058; TN Mortgage License 4302; NC Lender AL-148839
###