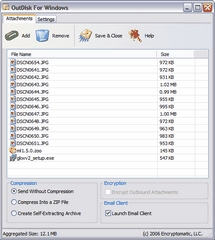 Moorhead, MN, December 01, 2006 --(
PR.com
)-- Encryptomatic llc today introduced OutDisk™ Email FTP for Windows®, a unique new file transfer utility that lets email users share large or restricted files. With OutDisk users can share files of virtually any size and file type, and optionally apply strong AES encryption to sensitive documents. OutDisk automatically uploads the file to a FTP server, and passes the download url to a new email message.
With OutDisk FTP for Email, users can avoid common problems with sending email attachments, including: exceeding the recipient's inbox storage capacity, file type restrictions, ISP file size restrictions, and difficulty with password protecting files.
OutDisk FTP for Email works with virtually any email program (Outlook®, Eudora®, Thunderbird), or web-based email (Gmail® or Yahoo! Mail®). OutDisk passes a download link to the email program, or copies it to memory so that it can be easily pasted into a browser or Instant Messenger program.
"Many IT departments are searching for a way to let their email users share large files. For compliance and privacy purposes, they would prefer that users not utilize the insecure ad-supported free file services," said Darren Leno, President, Encryptomatic llc. "OutDisk for Windows can be deployed throughout the company and is very easy to use. OutDisk utilizes the company's FTP servers, and keeps the company's data on the company's servers."
Who is it For?
OutDisk for Windows is a perfect email file transfer solution for system administrators who want to provide their users with an easy to use but effective method for exchanging sensitive files or large files.
Unlike the free file transfer services where privacy is not ensured, OutDisk FTP for Email allows system administrators to provide a simple file transfer capability to their users, while storing the attached files on servers that are under their control. This helps system administrators log file activity, provide better service to their users, and ensure that the company's policies are enforced for compliance purposes.
System administrators can optionally "lock" the FTP settings so that users can not change them. A script (in asp/php/perl versions) is available to automatically remove aging files is available for corporate users to run as a chron job or scheduled task. Multiple users can share a single FTP account, each using a private subdirectory for their own files, making the system easy to administer.
OutDisk for Windows also works well for private or individual email users. Users without an FTP account can use the built in "test" account to trial OutDisk's features. Encryptomatic llc also offers OutDisk-compatible FTP accounts at http://www.encryptomatic.com/outdisk/hosting.html.
How OutDisk Works:
OutDisk for Windows is a desktop file transfer protocol utilizing ftp and sftp protocols, and resume transfer. To select files, the sender simply drags and drops a file on the OutDisk desktop icon, or navigates to the files and selects them.
With a single click, the user can optionally compress the files into a standalone .zip file or a self-extracing .exe file). Documents may be easily password encrypted using strong AES-128 bit encryption to "send" the file, the user just right clicks on the OutDisk tray icon, chooses a file, and then "sends" the file.
When the user selects files and then "sends" then, OutDisk performs the following tasks for the user:
1. OutDisk for Windows immediately logs into the FTP site
2. OutDisk creates a unique subdirectory so that the file is not co-mingled with any other files.
3. OutDisk copies an http link to the file into to sender's clipboard, so it can be easily pasted into the email message then shared with the recipient. The sender may optionally have OutDisk pass the link directly into a new email message.
OutDisk for Windows requires an inexpensive web hosting account to operate. Such accounts are inexpensive and readily available. For example, the webhosting division of Encryptomatic llc, OutDisk.net, provides a web hosting account with 2 TB of data transfer and a 250 GB hard disk for just $9.99 per month.
OutDisk is also available as an add-in application for Microsoft Outlook.
About Encryptomatic LLC
Encryptomatic llc is a developer of customer-centric Microsoft Office solutions that protect the privacy of our customers email communications. Their products are widely available through an international online distribution network.
For more information, visit: http://www.encryptomatic.com/outdisk?ref=pr
Download a trial: http://www.encryptomatic.com/outdisk/outdisksa.exe
Pad file: http://www.encryptomatic.com/outdisk/pad/outdisksa.xml
###