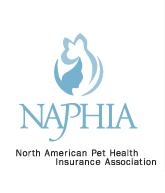 Pittsburgh, PA, June 18, 2010 --(
PR.com
)-- September 2010 marks the second year that pet insurance companies in the United States and Canada are joining together to celebrate North American Pet Health Insurance Month presented by the North American Pet Health Insurance Association (NAPHIA).
2009 was a great success with thousands of entries for the Favorite Veterinarian and Favorite Pet Insurance Story contests. This initiative includes communications and education for pet owners across the continent throughout the month of September. Supporters include pet health insurance companies, pet food and pharmaceutical providers and countless others.
North American Pet Health Insurance Month was first introduced in Canada by Petsecure Pet Health Insurance www.petsecure.com. According to Randy Valpy, President & CEO of Petsecure, "We began this effort in Canada five years ago and each year it continues to be a great success. The addition of our fellow NAPHIA member companies in the United States has created a huge boost and even greater understanding of the value of pet health insurance. This effort provides a special opportunity to share stories directly from pet owners about their experiences with pet insurance. This initiative highlights the value of all quality pet health insurance."
Pet owners, care providers and other members of the community are encouraged to send in stories and photographs of their pets for North America's Favorite Pet Insurance Story and make a nomination for North America's Favorite Veterinarian. Both contests can be entered online on NAPHIA's website, www.naphia.org.
The winner/ pet owner of the Favorite Pet Insurance Story contest will take home $1,000, and a special donation of $500 in the name of their dog or cat to their favorite local shelter or rescue group.
The prize for the Favorite Veterinarian is a $1,000 educational grant, plus a special trip for two to receive national recognition at the North American Pet Health Insurance Reception in Pittsburgh in September. The grant can be used to attend continuing education programs, conferences and conventions or be applied to the purchase of needed veterinary diagnostic equipment.
Runner ups in each contest will receive Apple iPads. Other great prizes will also be available.
"We are very gratified that National Pet Health Insurance Month appears to be a positive and valuable effort. It is intended to help all pets and care providers by highlighting great pets and their owners, veterinarians, veterinary hospitals, and the support of quality pet health insurance," stated Loran Hickton, Executive Director of NAPHIA. "We look forward to another successful year in 2010."
About The North American Pet Health Insurance Association
Founded in 2007, the North American Pet Health Insurance Association is committed to educating and promoting the values and benefits of pet health insurance to North American pet owners, the general public, and the veterinary industry. September is North American Pet Health Insurance Month. Pet parents can enter their stories, pictures and favorite veterinary practices for special prizes and an educational grant for the veterinary care provider. To learn more, visit our website at
http://www.naphia.org
###