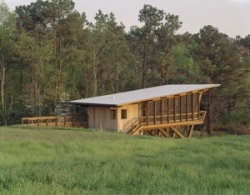 Raleigh, NC, December 06, 2006 --(
PR.com
)-- The North Carolina Museum of Natural Science's open-air pavilion at Prairie Ridge Eco-Station in Raleigh, designed by Frank Harmon, FAIA, is currently featured in two prestigious design journals: Architectural Record of New York and Wood Design & Building, a publication of the Canadian Wood Council.
The outdoor pavilion is the first phase of a multi-phased outreach project for the museum designed to foster an appreciation for the state's natural resources and natural diversity.
"As Harmon realized," writes Architectural Record's Sarah Amelar, "his building needed to be a teaching tool: a structure that would not only respond to this landscape, but also embody lessons about sustainability." She applauds the structure as "unpretentious" and notes that it "provides a remarkably comfortable space, like ship's deck projecting into the landscape."
Wood Design & Building praised the project's "ecological design [which] extends from the natural landscape to inspire learning… As light changes naturally during the progression of the seasons…so does the atmosphere of the room's interior, making it a diary of the seasons."
Harmon, principal of Frank Harmon Architect, is quick to credit his client for the popularity of the project.
"No architect – especially one committed to sustainable design – could ask for a better client than director Betsy Bennett and the North Carolina Museum of Natural Sciences," he said recently, "who not only never wavered from the commitment to sustainable design, but demanded it. We were encouraged to push the limit of architecture as environmental steward."
The project team included engineers Isaac Panzarella and Tim Martin, landscape designer David Swanson, and general contractor Buildssense, Inc.
The magazine coverage comes on the heels of five design awards for this little project. In 2005, the pavilion received awards from the North Carolina Chapter of the American Institute of Architects (AIA/NC) and Triangle Business Journal's annual EDGE awards program. This year, the project received design awards from AIA/NC's Triangle section, the Virginia AIA's Inform Architectural Journal, and the Canadian Wood Council's Wood Design Awards Program.
Harmon's firm is currently working on phase two of the project, which will include the Prairie Ridge Lodge, a 40-student residential dormitory that will also feature housing for teachers and visiting researchers; a large multi-purpose room; a wet lab; staff offices; and site exhibits. Like the open air pavilion, the new facility will demonstrate "the symbiotic relationship between built and natural environments," Harmon said, "by embracing 'green,' or sustainable building technology, which produces buildings that are as healthy for the environment as they are for the people who use them."
For more information on Prairie Ridge, visit Harmon's website: www.frankharmon.com, or the museum's: www.naturalsciences.org/prairieridge.
###