New LawProspector Concierge Simplifies Litigation Support Sales at $499 Per Month
With its New LawProspector Concierge™ product, LawProspector Makes its Inter-Linked Database of the 200 Top Law Firms, 100,000 Litigators, 10,000 Clients and 50,000 Active Cases Available at the Lowest Price Ever With No Long Term Contract.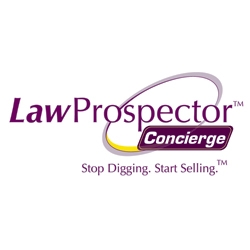 Los Angeles, CA, June 23, 2010 --(
PR.com
)-- To coincide with the start of the LegalTech West Coast 2010 conference, LawProspector announces the release of LawProspector Concierge. With this release of what is already an industry-changing sales tool, LawProspector has dramatically improved the landscape for litigation support sales.
Launched in February 2009 for litigation support sales teams and business development teams at major law firms, LawProspector offers an unprecedented view into the current and future litigation activities of the world's top law firms, litigators, corporations and their cases. With LawProspector Concierge, that same painstakingly researched data may now be accessed 24/7 at a cost-effective rate on a month-to-month basis.
Never before has there been such near-instantaneous access to critical data about the litigation marketplace. LawProspector subscribers are already using LawProspector to uncover sales leads in minutes that used to take hours, days and months of research. With LawProspector Concierge, a business development team is able to:
- Quickly determine who needs your services now based on stage of case dates like beginning/end of discovery, trial dates etc;
- Easily see which litigation teams and law firms are busy today, including a sortable count their active cases;
- Utilize Email addresses and phone numbers for 110,000 top 200 law-firm attorneys and more than 5000 in-house counsel;
- Quickly connect the dots between any of your existing relationships and new target relationships - you'll instantly see who you want to get to know at any firm.
"When we launched publicly last year, I knew LawProspector was well ahead of any existing product," said Kenneth J. Lopez, LawProspector's Founder. "With LawProspector Concierge, we have created a cost-effective tool that will grow the sales of any litigation support firm."
With LawProspector Concierge a litigation support sales professional receives unlimited access to LawProspector and up to five hours per month of 1-on-1 product consultation. Users are able to rely on a highly skilled LawProspector consultant to develop lead lists, research a specific litigator or even set up a sales territory report that will be emailed weekly with fresh sales leads. Additional consulting services are available at a low hourly rate. No long term commitment is required and users may cancel at any time.
About LawProspector
LawProspector is a firm founded by a group of attorneys working in the litigation support field. The firm developed its LawProspector software-as-a-service (SaaS) product in early 2008 and immediately began signing up subscribers. LawProspector operated in private beta for a year and refined its tool with feedback from current subscribers. Current subscribers include top 100 law firms and litigation support firms with revenues ranging from one million to hundreds of millions of dollars. LawProspector expects its subscriber base to grow from hundreds to thousands over the next few years. Subscribers pay a monthly subscription fee that is a fraction of the cost of a single researcher conducting similar research manually.
LawProspector, LLC - All rights reserved. LawProspector™ is a trademark of LawProspector, LLC in the US and/or certain other countries.
Press & Sales Contacts:
sales@lawprospector.com
(800) 738-8018 x1
http://www.lawprospector.com/
http://www.litigationsupport.com/
http://www.lawfirmselling.com/
http://www.youtube.com/lawprospector
http://www.facebook.com/pages/LawProspector/39114147295
###
Contact
LawProspector, LLC
Ken Lopez
(800) 738–8018 x1
www.lawprospector.com

Contact