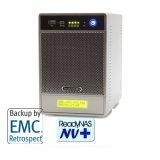 Longwood, FL, December 11, 2006 --(
PR.com
)-- eAegis.com, a leading Infrant Premier System Integrator, continues to deliver on its value for money promise with a Christmas holiday offering for the core unit and pre-installed ReadyNAS NV+ appliances integrated with Seagate AS and NS range of hard disk drives carrying a five year manufacturers warranty.
The Christmas Bonanza for the ReadyNAS NV+, includes a core unit (diskless) with 256MB memory for $609.00, with 1GB memory for $729.00, ReadyNAS NV+ 1.0TB, 256MB memory for $1065.00, 1GB version for $1185.00, a ReadyNAS NV+ 2.0TB for a mere $1499.00 and a host of other pre-installed units with amazing savings, all included with the popular eAegis pre-install and 48hr burn test service.
The ReadyNAS NV+ includes several major improvements over previous ReadyNAS designs, most notably a quieter design, a new LCD that displays Instant Status Notifications and comes bundled with EMC Corporation's powerful yet easy-to-use Retrospect® Professional for both Microsoft Windows and Mac OS X.
"Aegis has always been dedicated to bringing enterprise-level Network Attached Storage appliances to the masses, and we continue to deliver on our promise for providing value for money products that ensure protection of our customer's investment," said Mohamed Mawji, COO of Aegis, LLC.
The ReadyNAS NV+ builds on the award-winning pedigree of the ReadyNAS line and is designed to meet the varied and demanding needs of consumers and home office/small office users for a reliable, failsafe way to store their data. Additionally, the ReadyNAS NV+ comes preinstalled with RAIDiator 3.0, which includes the most updates of any firmware upgrade for the ReadyNAS line.
Availability and Pricing
The ReadyNAS NV+ is available from stock and pricing for the Christmas Bonanza initiative can be found on their website at http://www.eaegis.com. All prices are for U.S. only, and exclude any shipping, handling or tax.
About – Aegis, LLC
Aegis LLC and the eaegis.com and eaegis.net sites are specialist online retailers of business and consumer Network Attached Storage, and Wireless Network solutions. The people at Aegis LLC are committed to work strategically and diligently towards providing their customers with predictive buying solutions that ensure protection of their critical investments. Further information can be found on their web site by visiting http://www.eaegis.com or by calling + 1 321 233 1445.
###