Romantic Clothes Free Resort Celebrates 12 Years of Pampering Their Guests
Nudist resorts have come a long way since the nudist colonies days of old. This December 19th, The Terra Cotta Inn Clothing Optional Resort and Spa located in sunny Palm Springs, CA is celebrating its 12th anniversary. It was the first upscale nudist resort in the U.S. catering to couples on vacation, and twelve years later, it is still the best.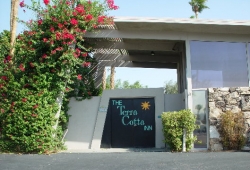 Palm Springs, CA, December 18, 2006 --(
PR.com
)-- "When I told my parents we were opening an upscale clothing optional resort in sunny Palm Springs, CA, you should have seen their faces," explains Tom Mulhall, owner of The Terra Cotta Inn with his wife Mary Clare. "My father was speechless and my mother told me I needed to go see the priest and go to confession! Now that we have been open 12 years, our families have visited many times and love our place just like everyone else."
The Terra Cotta Inn Clothing Optional Resort and Spa
http://sunnyfun.com
has been a favorite with first time nude sunbathers since the first day they opened. Terra Cotta was the first of all nudist resorts in the country to cater to couples on vacation. Although the guests come from around the world, most are from the U.S., Canada, England, and Australia. First timers loved the Terra Cotta experience so much that they became repeat guests. Averaging just over a 75% repeat guest rate, they have some of the most loyal customers in the travel business.
One of the reasons they are one of the most popular nudist resorts in the U.S. and most popular hotel in Palm Springs is their great customer service. Guests say when they visit Terra Cotta it is like staying with friends. They don't want to be just another number at a big impersonal resort. Tom is a past president of the Palm Springs Chamber of Commerce. The staff of Terra Cotta Inn know Palm Springs better than enyone else.
Once you get there, all you need to do is relax and be pampered. Get a fantastic massage everyday for instance. No need to worry about the outside world. But, if you still need to stay in contact with work or family, they have free wifi. Nothing beats answering work e-mails sitting at the pool wearing nothing but a smile!
One of the biggest secrets to their success is being a couples resort for vacationers. Unlike the typical nudist resorts that cater to families and all the kids which are great for a weekend getaways, Terra Cotta finds kids don't make for romantic vacations. Their guests leave the kids with the grandparents. This way parents can remember why they initially fell in love and don't have to act like mom and dad all week long.
The Terra Cotta Inn is different. They are the perfect solution for couples who never can find enough quality time to spend together. Wives and girlfriends who feel they never get enough attention from their mate find all the togetherness at Terra Cotta heavenly and very romantic.
"My husband doesn't want to sneak off to play golf all day," says Julia who has been going to Terra Cotta for the last 11 years. "We just love it here. We escape from the pressures of work and raising our children. Our minds are away from the hustle and bustle of everyday life. Here it is just us and literally nothing else. Our happy memories from one week at Terra Cotta get us through the other 51 weeks until our next vacation."
Another major secret to their sucess is they operate just like a normal boutique resort for regular people. Terra Cotta Inn guests just get better suntans. People have a misconception that only "card carrying" nudists and naturists like to vacation at clothing optional resorts. That just isn't true. Their guests don't call themselves nudists. They just like the freedom and safety of sunbathing "au naturel" at Terra Cotta.
"The media always calls us the most mainstream of all nudist resorts in America and perfect for couples trying nude sunbathing for the first time," Tom proudly states. "Our guests are regular people like teachers, nurses, doctors, entrepreneurs, engineers, police and firefighters, etc. You name a profession and they have been our repeat guests. We have all ages and body sizes. Everybody just loves it here and fits right in.
"My favorite part of owning The Terra Cotta Inn is how the clothes free experience makes women feel so comfortable with their bodies," adds Mary Clare. "Women tend to be judged on their looks in our society. As a result, some of us don't like our less than perfect selves. When first timers come to our resort, they see that no one is perfect and looks like a model. Women see they look just as normal as everyone else. And for some women for the first time in their lives, they start to like themselves. Nude sunbathing with others is a profound and joyful experience. I am very proud that we can bring so much hapiness into so many guests lives."
If you want a new vacation experience, something fun and romantic, something where you can create your own happy vacation memories to last a lifetime, give The Terra Cotta Inn a call at 1-800-786-6938. You will be glad that you did.
###
Contact
The Terra Cotta Inn Clothing Optional Resort and Spa
Tom Mulhall
1-800-786-6938
http://sunnyfun.com

Contact